Microsoft today released Windows 10 Insider Preview Build 14915 for PC and Mobile to Windows Insiders in the Fast ring. Delivery Optimization is being enhanced in this build. Insiders will be able to download new Insider Preview builds, OS updates and app updates from other PCs on their local network as well as from other PCs on the Internet.
Delivery Optimization is improved
Windows 10 November update introduced Windows Update Delivery Optimization providing users the ability to get updates from PCs on a local network. Delivery Optimization is on by default.
Microsoft is now enabling the ability to get updates from PCs on the internet. A PC may also send parts of apps or updates that you have downloaded using Delivery Optimization to other PCs.
Rather than downloading an entire file from one machine, Delivery Optimization breaks the download into small pieces and uses what is assessed as the fastest, most reliable source for each piece of the file. Delivery Optimization is also mindful of local disk usage, use of cellular networks, battery life, and other network activity.
This can be done from Settings > Update & Security > Windows Update > Advanced options and select "Choose how updates are delivered."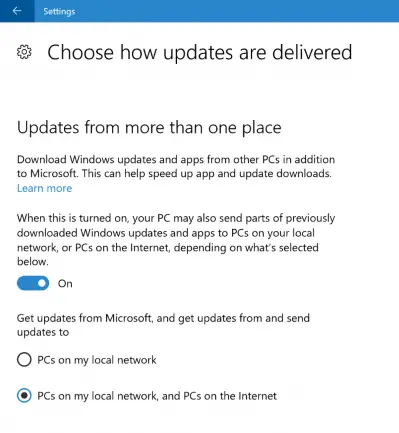 When Delivery Optimization is used on your PC to download apps and OS updates from other PCs on your network or the Internet for the first time, you will see a notification in the Action Center.
Windows Insiders can try this feature out on the next flight and provide additional feedback on this experience. Delivery Optimization was designed to help updates and apps to download smoothly and more quickly as well as help users around the world have a great download experience when they download update and apps, even when using slow or unreliable Internet connections.
Improvements and fixes in Build 14915 for PC:
Issue of power button on Start menu is fixed.
Issue of Cortana's text to speech capabilities not working is fixed.
Issue of Settings app crashing on some conditions due to missing .dll is fixed.
Number of improvements to translations.
Changing functionality of Ring settings now working.
Issue of apps such as Yahoo Mail, Google and Skype Translator Preview crashing is fixed.
Delay in Mail notification toasts appearing is fixed.
Issue of "Open with" dialog is fixed.
Connect flyout updated so that the clickable area for each device listed now spans across the full width of the flyout.
Issue of Chinese Input Method Editor is fixed.
Using Ctrl+A in Microsoft Edge to select all text and failing to paste for some websites is fixed.
Fixed an issue where importing favorites into Microsoft Edge from Internet Explorer would fail if the Favorites folder had been redirected to another folder
Improvements and fixes in Build 14915 for Mobile:
Issue of apps getting stuck in pending state if apps moved between SD card and internal storage is fixed.
Issue of Cortana's text to speech capabilities not working is fixed.
Ring setting capability in Settings now working.
Compatibility issue causing apps as Yahoo Mail, Google and Skype Translator Preview apps crashing is fixed
"You need to fix your MSA" notification toast logic updated.
Microsoft Edge's download into default location instead of preferred location issue is fixed.
Continuum-capable devices that could result in being temporarily unable to connect to a previously paired Windows 10 PC is fixed.
updated the settings for sounds .mp3 or .wma files.
Known issue in Build 14915 for PC:
Adobe Acrobat Reader crashes on launch
May experience a black screen when signing out and switching to another user account and will be unable to log into that account. Rebooting is the workaround.
Bash may not work after upgrading to this build. The workaround is to go to "Turn Windows features on or off", scroll down and check "Windows Subsystem for Linux (beta)" and click ok.  After a reboot, Bash should work again.
Settings app may crash
You will lose wireless network connectivity after upgrading to this build on a Surface Pro 1 or Surface Pro 2.
Apart from announcing the new build, Dona Sarkar also mentioned about the 4 city set of Create-A-Thons where Technical and creative Insiders gather together forming teams to tackle various issues. She also posted few pics of the Insiders gatherings.