Desktop Analytics for Windows 10, which provides the users and businesses the much-needed insight and automation to stay current was unveiled by Microsoft. As industry experts mention, Desktop Analytics is the extension of Windows Analytics. The public preview of Desktop Analytics is now available.
After the Windows 10 April 2018 Update release, Microsoft is making efforts to make use of AI (artificial intelligence) to improve the quality and reliability of the future releases. With this thought, Microsoft equipped Desktop Analytics with AI and the new version of this data analytical tool was released by the software giant.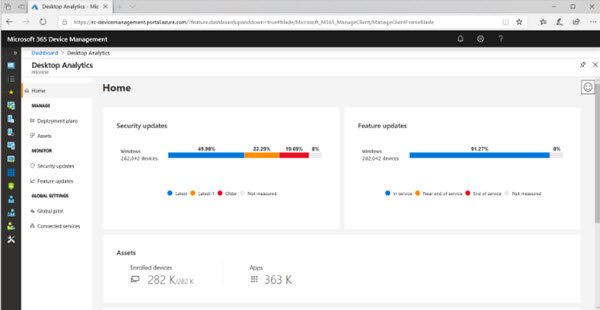 Desktop Analytics for Windows 10
Desktop Analytics is a cloud-connected service that integrates with System Center Configuration Manager. As mentioned by Microsoft, it will also integrate with Microsoft Intune in the near future. Desktop Analytics will help the enterprise PCs to remain up to date with the latest Windows 10 capabilities and also help your employees in their day-to-day tasks.
Jason Myers, the End User Senior Lead, Mars mentions,
"With Desktop Analytics, we're able to automate our pilot plans to ensure all application and hardware scenarios can be tested and validated prior to upgrading to the latest release of Windows 10."
Desktop Analytics is the evolution of Windows Analytics as mentioned by Jared Spataro, Corporate Vice President for Microsoft 365. He explained last September that Desktop Analytics add deeper integration with Configuration Manager and provides a ring-based approach to the deployment using health signals.
Features of Desktop Analytics
Desktop Analytics provides users with the insight and intelligence that helps in making more informed decisions about the update readiness of Windows clients. It combines data from the organization with the data aggregated from millions of devices connected to Microsoft cloud services.
You can use Desktop Analytics with Configuration Manager to:
Create an inventory of apps running in your organization
Assess app compatibility with the latest Windows 10 feature updates
Identify compatibility issues, and receive mitigation suggestions based on cloud-enabled data insights
Create pilot groups that represent the entire application and driver estate across a minimal set of devices
Deploy Windows 10 to pilot and production-managed devices
On a concluding note, the service cloud of the Desktop Analytics for Windows 10 enables users' existing on-premises infrastructure. Users can use this data and analysis to deploy and manage Windows on their devices.
Read more about Desktop Analytics on Microsoft Docs.