The latest data from the research firms Gartner and IDC reveal that the PC market has resumed its downtrend. In 2013, the PC market saw its steepest decline when the shipments dropped to a staggering 10%. However, 2014 bought much hope, with just a 2% decline and it was believed that the market is beginning to stabilize.
But, as per the new data from Gartner, global PC shipments totaled 71.7 million units in the first quarter of 2015, a 5.2% decline from the first quarter of 2014. Numbers from IDC show an even bigger drop of 6.7% year on year.
Fewer customers are buying Desktop PCs
As the numbers stand up, it is evident that Desktop PCs are finding less customers now a days. The 2014 recovery was primarily because many companies replaced their PC's because end of support of Microsoft's most popular operating system Windows XP. Such was the installation base of Windows XP, that its replacement itself boosted desktop PC sales.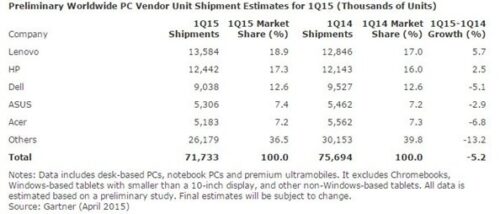 However, once replacements dried the sales started dipping. Mikako Kitagawa, principal analyst at Gartner says,
"Many companies replaced their PCs due to the end of Windows XP support, but that replacement cycle faded in the first quarter of 2015. Desk-based PC shipments declined rapidly, with business desk-based PCs being impacted the most".
The Superfish controversy seems to have little effect on Lenovo sales performance. The PC maker was the most successful among other vendors as, both, Gartner and IDC, reported 5.7% and 3.4% growth percentage for the company respectively. Lenovo experienced its strongest growth in EMEA and the U.S. It has become one of the top providers of hybrid notebooks, especially its Yoga line in mature markets.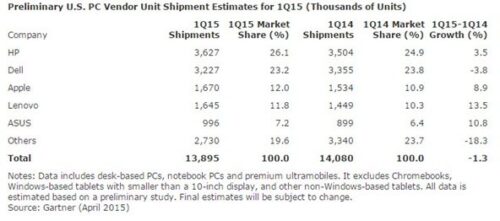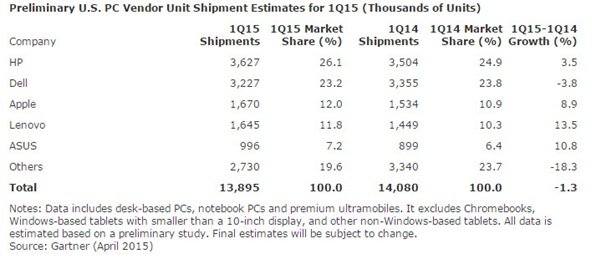 HP was the second vendor after Lenovo to show growth. It shipped 12,442 desktop PC units as compared to 12,143 units in the first quarter of 2015, a growth of 2.5% as per Gartner. HP performed moderately well in the first quarter, maintaining its top position in the U.S. and EMEA.
On a positive note, PC market could see a bump with Windows 10 launch nearing by. Rajani Singh, Senior Research Analyst, Personal Computing, says,
"The upcoming launch of Windows 10 will consolidate the best of Windows 7 and Windows 8.1. In addition to the free upgrade for consumers for a year after the release, Windows 10 should be a net positive as there is pent-up demand for replacements of older PCs. Only part of the installed base needs to replace systems to keep the overall growth rate above zero for rest of the year."
The market for Mobile PCs, including notebooks, hybrid and Windows tablets, grew compared with a year ago with users viewing them as better PC replacements.