Mozilla today announced that they are rolling out Device Management features for all Firefox Account users across the globe. This new feature will help give users a clear overview of all services attached to the account, and provide them with efficient control over their synced devices. This means that you can now sync passwords, browsing history, bookmarks and other such data with all your Firefox devices.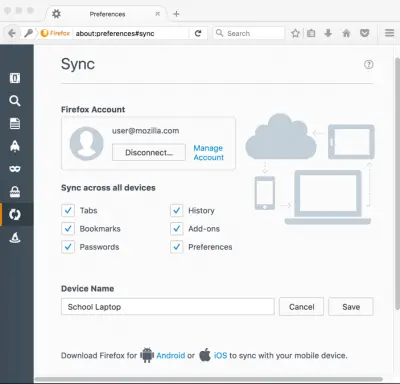 Device Management for Firefox Account
The new 'Devices' panel can be found in your Firefox Accounts settings panel and devices under Firefox Sync can be managed from that location. The devices section shows all connected Firefox clients on Desktop, iOS, and Android and there's also an additional 'Disconnect' button to disable the devices you don't want to sync.
In the Device Management panel, you will be able to see all your connected devices (Android, iOS, Windows, Linux) will be available under a single window, and you can easily share information across them, or choose to disconnect certain devices.
Another big change can be seen in the new Edit tab that can be accessed from 'about:preferences#sync'. It will list the Firefox account that is being used or an option to sign in or sign up for a new Firefox account. It also has a Manage link which opens the Firefox Account preferences on the official Firefox site, and options to select which data you want to be synced across devices.
Mozilla announced that these updates are coming to all users within the next few weeks. They are currently available for all Nightly users on Firefox.