A week before the Google Reader app shuts down; Digg Reader arrives just in time! Yes, the Reader replacement after 3 months of work has finally been opened for public use. All the news-hungry souls can now access Digg Reader and use it finally as Google Reader replacement.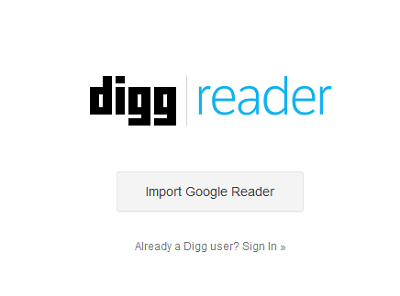 Digg Reader Comes to the Web
Currently, it is available on the web and as an iOS app. The Android version is not out still however, it is expected to be released soon, may be in few weeks time. To use Digg Reader, just link up your Google account and Digg Reader should show everything you had in Google.
"After a week of testing and scaling, adding batches of users and improving our infrastructure, we're happy to fully open Digg Reader to the public! To give you a sense of scale, last night we were crawling over 3.3 million feeds. We're now up to 4.5 million. That's a lot of data – and it's growing quickly – but (at the risk of tempting the cruel and unforgiving Fates), the site has remained speedy and stable", reported the blog.
The experience, at present may not be thoroughly satisfying as there are some important features missing still. Among the features that Digg hopes to implement shortly are,
"View Unread Items Only" option for feeds and folders
Mark As Unread" button
Accurate unread counts for feeds and folders
The post doesn't mention deadline on these features, but Digg GM Jake Levine confirmed on Twitter the features will be added soon.
Hope Digg Reader doesn't get walked over by other Google Reader replacements that are due to debut in the coming weeks.