Microsoft has once again nailed it when it comes to helping the world to progress when the organization is progressing itself. Recently, Microsoft announced and launched a Digital Skills Program in the UK. This digital skills program by Microsoft will train around 30,000 public servants across the UK a range of digital skills. The one-of-its-kind digital skills program by Microsoft will ensure that the country remains one of the global leaders in cloud computing, artificial intelligence, and other next-generation technologies.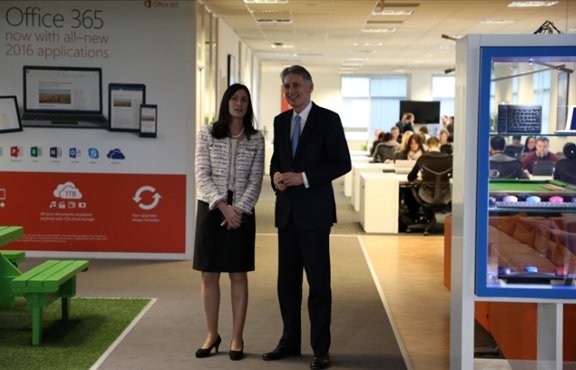 Digital Skills Program by Microsoft
The announcement of the digital skills program by Microsoft corresponded with the visit by Chancellor Phillip Hammond. He was on a visit to Microsoft's UK headquarters, Reading. The digital skills program Microsoft will allow UK government and public sector organizations to deliver better, more efficient and modern services to people across the country. Thus, it is a program with two aims; to increase digital literacy in the country and help people receive modern services.
Apart from this program, Microsoft has also promoted digital literacy, so that everyone in the UK has access to free, online digital training. This will, in turn, help these to enter a world of technology, where everything is dependent on latest technologies.
On the occasion of the announcement of this program, Microsoft UK Chief Executive, Cindy Rose said,
"We believe a fourth industrial revolution is under way – one driven by the transformative power of cloud technologies. In the wake of the EU referendum vote, the UK is looking at charting a new and different path to its future and Microsoft is committed, as it has been for more than 30 years, to helping the UK realise its full potential. We believe maintaining the UK's global competitiveness relies on a successful transition to a cloud-enabled economy."
Not only the Digital Skills program, but Microsoft has announced a range of various programs in order to increase digital literacy amongst people in the UK. One of such programs is DigiGirlz, where girls are encouraged to pursue digital literacy.
Considering the economic growth of 0.6% of in the past three months, the Chancellor said,
"This is further evidence that Britain is one of the best places in the world to do digital business. Microsoft's commitment to training, technology and apprenticeships will ensure that we remain at the cutting-edge of innovation."
To know more about the digital skills program by Microsoft, read the report on Microsoft News Center UK.