Microsoft has released a Disk Cleanup Troubleshooter that temporarily disables the automatic running of Disk Cleanup until Windows 10 upgrades itself successfully to the latest build or version.

Disk Cleanup Troubleshooter for Windows 10
Microsoft had to take this step, because some users reported that after installing a recently released Windows 10 Build 19041.21, their devices would fail to boot after running the Disk Cleanup. This was compounded because the Disk Cleanup Utility ran automatically on many systems – thus many unaware users landed in trouble unknowingly.
To resolve the issue, the relevant fix has been launched in Windows 10 Build 19041.84. However, till users upgrade their systems to the latest updates, they would face the issue in discussion.
While Disk Cleanup runs through the system both manually and automatically, the Disk Cleanup troubleshooter temporarily disables Disk Cleanup from running until you install the Windows 10 Build 19041.84, thus saving your system from the boot failure problem.
You cannot run the Disk Cleanup troubleshooter manually. This Troubleshooter will run automatically on your system twice – once when your device is on the Windows 10 Build 19041.21 and later when you upgrade it to Windows 10 Build 19041.84.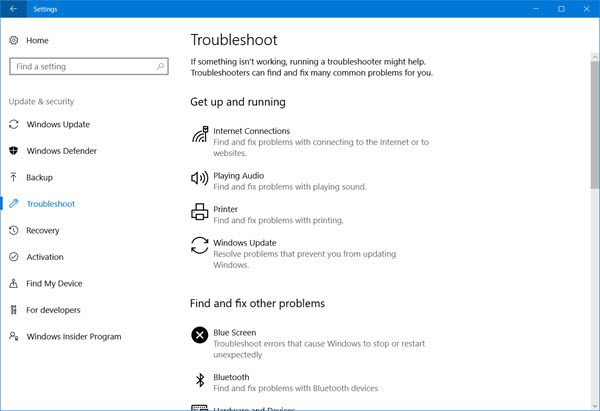 To check the work history of any troubleshooter, click on Start and go to Settings > Updates & Security > Troubleshoot > View troubleshooting history.
If it mentions the troubleshooter has run on your system, consider your system safe.