In the latest bid to educate its users more about the OS and increase its adoption widely, Microsoft rolled out an app called AppComparison. The app automatically inventories the applications, installed on the Android phone and also suggests equivalent versions, available for Windows Mobile OS.
AppComparison for Windows Phone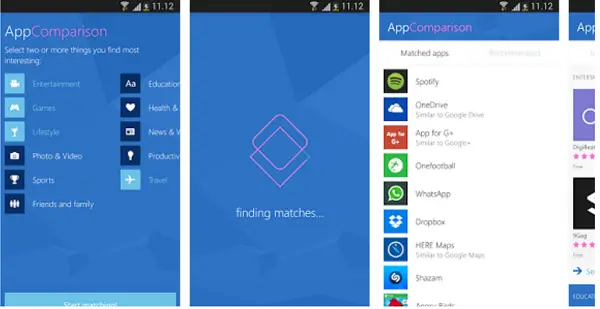 Precisely, it's a list detailing which of your Android apps are also available for download on Windows OS. There's a rider attached to it however – You should be running Android 4.1 or higher, to download apps from Google Play.
When you first launch the app, you're requested to select categories from this list ranging from Education, Fitness Entertainment, Games Sports, travels and more. The app just matches most of the apps but, the recommendations aren't so good.
For instance, when you search for Google Play Music equivalent, it returns results with names like CloudMuzik for Windows Phone instead of much better apps like Groove Music.
The app's listing on the Google Play Store states:
Are you considering changing your Android device to Windows Phone? AppComparison identifies your favourite Android apps and matches them with apps available from the Microsoft Store. The application also introduces you to some of the most popular Windows Phone applications.
Microsoft sometime earlier had released a "Switch to Windows Phone" that assured users to find app alternatives on Windows Phone, though it failed to show you the appropriate and near matches. AppComparison does show you the matches, but much work needs to be done.
A good feature about ApComparison is the results it displays make sense like, OneDrive is similar to Google Drive, Mail is similar to Gmail, Calendar is similar to Google Calendar. So, if you are planning to switch to Windows Phone / Windows 10 Mobile but aren't sure if the app you use on Android platform would be available on Windows, the app finds you covered.