The software manufacturer –Microsoft has officially released a new and exciting game for all the Windows' games lovers. Endless Skater for Windows 8 can be run on a Windows PC, Desktop or tablets running windows RT.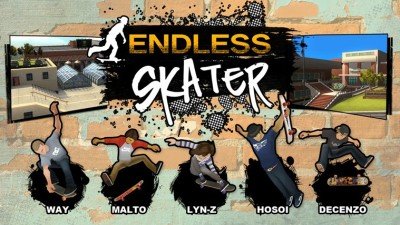 Endless Skater for Windows 8
The game promises Endless level design and Endless gameplay. Plus, it features different, ever-changing environments – The School and The Rooftops enough, to keep you engaged. Besides, there are some hidden signature tricks you can discover while you make progress in the game.
There's also a New "Bank" feature included that enables you to push and pull game credit from the cloud, to and from all of your Windows 8 devices!
The description of the app in the Windows store reads as,
Flip, Grab, and Grind your way to the longest runs and highest scores in Endless Skater! Air it out on ramps, across rails and even over the rooftops! Choose from five of the top professionals to ever set foot on a skateboard and jump into endless levels that challenge you to get as far as you can, or score as many points as you can. Discover dozens of tricks and combos – including secret, hidden signature tricks. Go for huge air, long grinds, and big flips! But watch out … you can also take some huge spills!
Interested gamers can read more about Endless Skater for Windows 8 and download it from the Windows Store. Look for hidden bonuses and pickups in levels to boost your scores and Xbox achievements! The game is absolutely free!