Firefox 21 is no longer in Beta and is now available for download with improved performance and various new features. However, the official release is still a few hours away, but Mozilla has already uploaded it to its servers, for users to download.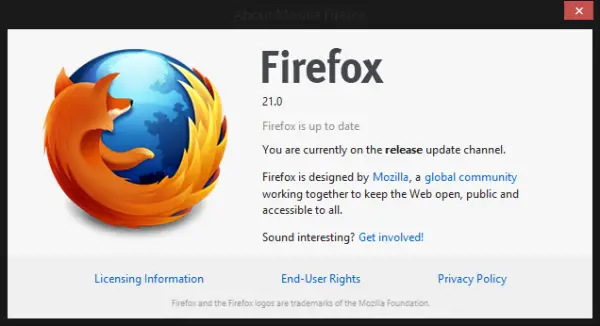 Mozilla has added various new features in Firefox 21 and also made some major changes to existing one. It also features several bug fixes, although there are still a few issues left unresolved.
No official Firefox 21 changelog is released yet, but the release notes reveals all.
New features added in Firefox 21
Enhanced three-state UI for Do Not Track
Suggestions on how to improve the application startup time when needed
Preliminary implementation of Firefox Health Report
Added support for <main> element
Implemented scoped stylesheets
Changed Features of Firefox 21
Ability to Restore removed thumbnails on New tab Page
Add-ons History API removals in Places
CSS -moz-user-select:none selection changed to improve compatibility with -webkit-user-select:none (bugs 816298)
Graphics related performance improvements (bugs 809821)
Removed E4X support from SpiderMonkey
Bugs Fixed in Firefox 21
Some function keys may not work when pressed
Browsing and Download history clearing needs unification to avoid confusion on clearing download history
Unresolved Issues in Firefox 21
If you try to start Firefox using a locked profile, it will crash (see 573369)
Download statusbar add-on continues downloading files from Normal Browsing, when switching to Private Browsing
'Three state Do Not Track' is one of the main features added to the new Firefox 21. It lets you decide if you want to be tracked with the cookies of any websites or not. You can evade the tracking cookies of any website you don't visit including the advertising programs and analytic services.
"The Firefox Health Report" included in Firefox 21 keeps you posted with information about your browser's stability and performance over time. It also lets you know how various configurations could affect the performance of Firefox.
Download Link:  Firefox 21 (EN-US).