Sometime back, Microsoft released Microsoft Device Center application for Windows 8. The free application allows all mouse and keyboard users to easily personalize and customize their peripherals. Now the software giant has updated its hardware products page to help its users download Windows 8 compatible software and drivers for mice and keyboards via this application.
Microsoft recently had announced new entries in its Artist Edition mouse family. The very decision was conceived by many users as an ironic approach by the company since it started coming up with some of its finest mice ever just at a time when it was expected to move away from mouse and keyboard experience towards touch and tablets with Windows 8 operating system. The company, however has put all the speculations to dust by getting the Device Center at the right time.
The main highlight of the free application is that it just requires you to download and install the specific Device Center software, necessary for making your device compatible with Windows 8. That's it! The Device Center then takes care of the rest of the device installation and configuration procedures. And after the installation is complete, a user can fine tune his mouse or keyboard settings via settings provided.
Remember, you should launch the app from the Windows 8 Start screen. Then, if at any stage you require help you can access the application's online How-To/Troubleshooting library that offers tips on how to work more comfortably on your computer. Besides, you can explore features with pop-up descriptive and "how-to" InfoTips.
Microsoft has released drivers and software for Microsoft Hardware products like Mice, Keyboard, Desktop Sets. Driver for Webmacs, headsets and Gaming are also expected to be released soon.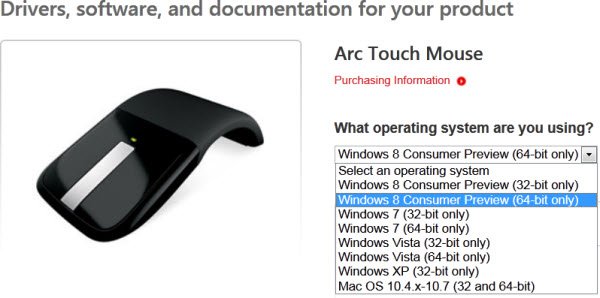 To download software and drivers for your Microsoft Hardware and check if the Device Center supports your device presently visit Microsoft Hardware.