Microsoft is bringing a plethora of new features today with the rollout of Microsoft Edge version 88 is now loaded with new privacy, security, and productivity features along with a choice of new colorful themes.
Centered on Google's open-source Chromium browser, Microsoft re-released the Edge 88 browser almost a year ago. However, today, the company is bringing its browser not only in parity with Google Chrome but it has quietly added some unique features that will interest most of the users. Here is a look at what is new.
Microsoft Edge version 88 new features
Sidebar Search (Remember Ask Cortana) – This feature builds on what you experienced with "Ask Cortana" and allows you to search the web in a sidebar interface by just right-clicking the text or images. Therefore, now it is convenient, to search the web without leaving your current tab.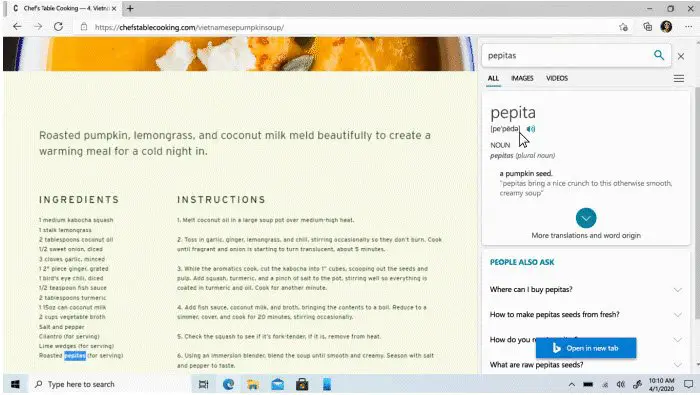 Next up is the feature to see the Outlook email right from the Microsoft Edge new tab page.  This makes it easier for users to see recent emails, or to start a new email or meeting request on the browser tab after you have the website pinned in your quick links.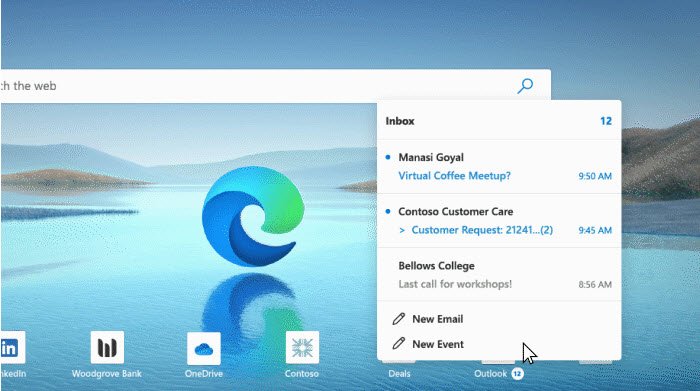 To refresh the visual memory, Edge 88 also brings new icons in the address bar and context menus and several new themes designed to make Microsoft Edge look and feel unique.
Performance Feature on Edge 88
If your PC is on a battery this would interest you the most as the new power efficiency feature allows you to put inactive tabs to sleep after a certain amount of time. Putting inactive tabs to bed releases up resources for other tabs, keeping performance fast even on devices with a lesser RAM or CPU power.
Read: How to Always use Strict tracking prevention when browsing InPrivate in Edge.
New Security additions
Perhaps the most notable feature among all comes in the Security department in the form of a Password generator and monitor. Edge 88 now has a built-in password generator when signing up for websites that will automatically save and sync with your Microsoft Account. Added to above, Microsoft Edge 88 has also bundled out a password leak checker that will caution you when it finds out that a password you use has been found in a password leak dump.
For improved user's privacy, Microsoft Edge 88 now includes additional transparency to help users manage specific site permissions. Now you can control which sites you share your location, camera, and microphone access, and thereafter you can review, edit, and reset the site permissions as per your wish.
Adding more convenience, you now have a new option to delete third-party cookies with just a click of one button, and if you are signed in with your Microsoft Account is has become easier to sync open tabs and browsing history across a variety of devices you use.
In a blog post, Liat Ben-Zur, Corporate vice president of Modern Life & Devices Product Marketing Management at Microsoft says that the features have already started to roll out to users, though it may take a couple of weeks before you see all of them.
Microsoft Edge 88 is rolling out in the stable channel now. What are your thoughts on these new features? Let us know in the comments.