Microsoft Edge web browser is now available for Android and iOS. After being in a beta version for around a month, the Company has made it available for download. Microsoft Edge for iOS is currently available in the United States, China, France, and the UK whereas for Android it is available in the US, Australia, Canada, China, France, India and the UK. Other markets will be getting the Edge real soon.
Microsoft Edge for Android and IOS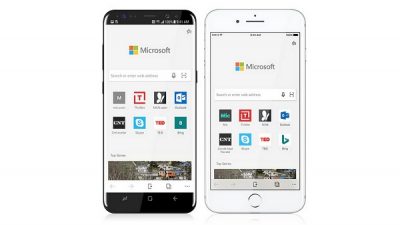 Microsoft says, "While we're excited to remove the preview label along with the download restrictions, we are more excited about all that's ahead. We have a long list of new features to build and improvements to make. We hope you will try the app alongside your Windows 10 PCs and provide your ideas on what can make it even better".
Microsoft Edge is a feature rich web browser. While almost every feature will now be available on Android as well as iOS platforms, the best feature is "Continue on PC" where it syncs your browsing with the desktop version. Which means that you continue your mobile web browsing on your PCs instantly. Not just your opened webpage, but the app also syncs your bookmarks, and reading lists etc. Please note that the Edge browser currently supports only iPhone and not the iPads. Android and iOS users can also enjoy the desktop features like Reading List, Reading View, New Tab Page, Roaming Passwords and much more.
Microsoft has also added some new and popular features to the mobile version of Microsoft Edge which includes- Roaming Passwords and Dark Theme. With Roaming Passwords, all your saved passwords on mobile device float to your PC too.
It is available as a free download at Google Play Store and Apple Store.