Earlier, at some point of time there was news that Microsoft was exploring ways to enable a dark mode for Windows 10 desktop. The development was is in the works, until now!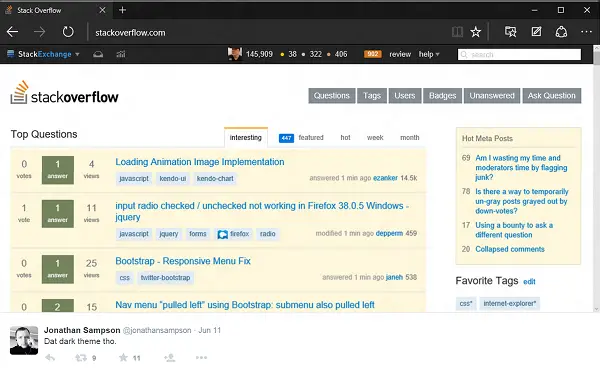 Edge Browser Dark Mode
Microsoft employee Jonathan Sampson tweeted a screenshot of Edge browser dark mode enabled and going by the first looks, the design seems impressive.
If you are a night owl u know reading a bright screen at night can be harsh on the eyes. So, a popular way to reduce eye strain is to use a dark background with light-colored text that provides a more comfortable watching experience. The Night Mode Theme in the Edge browser is so designed to make it easy to dim your browser for easier reading at night.
Another change that is also visible in the build the screenshot is from, shows, the feedback button is being replaced by a simple share button, which is currently found in the three-dotted menu in build 10130.
It's worth mentioning that Dark mode in Windows 10 acts much like dark mode does on Windows Phone 8.1. The user will get the option to switch between either dark or light mode. That said, app developers will posses the power to overwrite this option with their own color in their own apps if desired. We assume we'll see more of Dark mode in Windows 10 over the next and upcoming builds.
With the Windows 10 RTM just a month and half away, some final touch to the User Interface are being made and are finding their way down the development branches. This indicates, we could get an experience to read in the full dark mode, soon.