Microsoft Edge Developer Tools are receiving new accessibility features for people with disabilities. According to Microsoft, new accessibility features such as keyboard navigation will not only benefit those who are differently-abled, but also other users.
The reason behind introducing these changes to the Edge Developers Tool is simple. Microsoft says nearly half of computer users in the US rely on some form of assistive technology (AT) which brings us to the point of having tools that will make web designing and development relatively easy.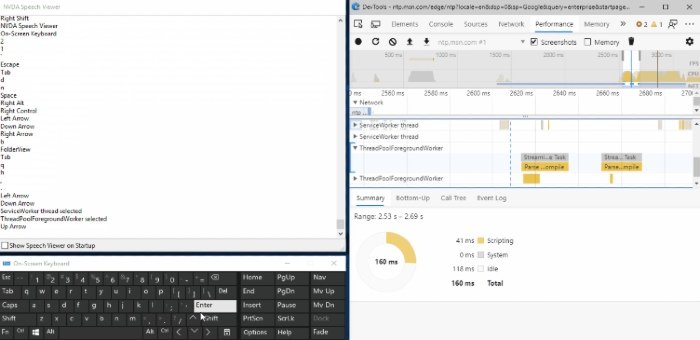 New Accessibility features in Edge for designers & developers
Microsoft Edge Developer Tools allow web designers and developers to create website templates and check for its compatibility in the new Edge browser.
"Users of AT may have physical or cognitive disabilities, temporary injuries, hearing or vision loss, or other conditions that necessitate different experiences on the web. Other users may not have an impairment but benefit from the convenience of features such as keyboard navigation."
Microsoft says they've added new changes and improvements for developers who use DevTools via the keyboard or using screen readers such as NVDA and Narrator. With these changes, Edge makes it easier to navigate between tabs and view detailed information within panes.
But Microsoft's new changes and additions to the Edge Developer Tools are not limited to tab and pane navigation. Microsoft is also making complex features like breakpoint and performance details accessible inside Edge Developer Tools.
Microsoft has also added new tools that it says are built from scratch. New changes make stack traces more compatible with assistive technology (AT), courtesy of the new Initiator tab. As a result, stack traces are now accessible by moving them out of a hover element and into their own tab.
Microsoft has also brought changes to color contrast ratios in DevTools UI. These changes make sure that data charts and other information can be visualized in additional ways.
New Edge DevTools accessibility features are available for Windows 10, Mac OS X, and legacy Windows (8.1/8/7). Since new Edge is based on the Chromium engine, these changes will also be available in Chrome and other Chromium-based browsers.