If you have recently updated Microsoft Edge Insider build, a smiley icon next to your profile picture cannot get unnoticed. Edge team has introduced this feature to make it easy for anyone to report an issue. They have made it better. Edge Insider now allows you to edit screenshot, select logs, recreate the problem, and attach files.

Edge Send feedback Smiley button offers Screenshot editing, selective logs, recreate the problem and attach files
Here is the list of changes available when submitting the feedback.
1] Editing Screenshots
As a default, The feedback tool takes a full screenshot. Now it may also have some personal data which you do not want to share.  To answer this, you can now crop, modify the contents of the screenshot. The tool also includes pen tools, which will help you highlight or mark anything which the feedback team should not miss at all.
When you hover your mouse, the option to edit the screenshot gets highlighted. Click on it, and it will open a minimalistic tool which can help you crop, and highlight. You can also change the color. Highlighter is also useful when you want to hide part of the screenshot.
If you do not want to send the screenshot, you can always uncheck along with email and diagnostics data.
2] More control on Diagnostics Data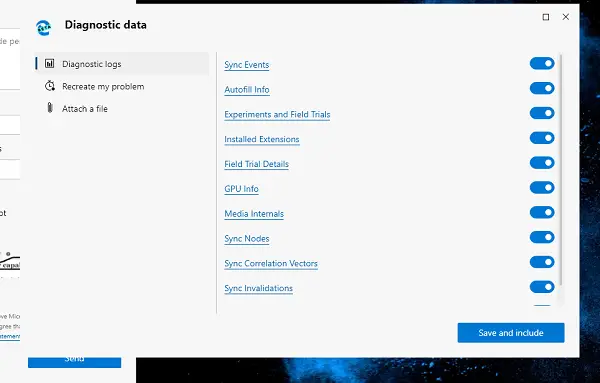 Instead of sending everything, which may not be relevant, you can choose which diagnostic data should be sent to the Microsoft servers.  Click on the diagnostic data link, and it will reveal a list of diagnostic data logs such as Sync events, Autofill info, Sync Nodes, GPU info, and more. Once you make your choice, click on Save and include it.
3] Recreate my problem
The option allows you to recreate the log with details that are usually not available in the regular diagnostics logs. Switch to the screen, and then follow the steps to recreate the problem. During the process, the Feedback tool will go detailed logging, and it will be uploaded. It gives the Feedback team a better chance.
As of now, there is no way to shoot video or take a screenshot during this process. Microsoft Edge Team says that it may come in the future.
4] Attach a file
If you can take a better screenshot, edit in a lot better way compared to what the inbuilt tool has to offer, you can upload your file, which can also include log files.
All in all, these are some significant improvements from the Edge team. Its just one-click away. You don't have to open a menu or use a shortcut key or anything else.  Even though you can remove the smiley icon, we don't suggest that that you do it.