According to Microsoft's data and testing, Microsoft Edge on Windows 10 provides the best video experience of any browser. It provides better quality video and also is the most power efficient. It has been engineered to optimize for and take advantage of Windows 10 built-in media capabilities.
Get more out of your battery with Microsoft Edge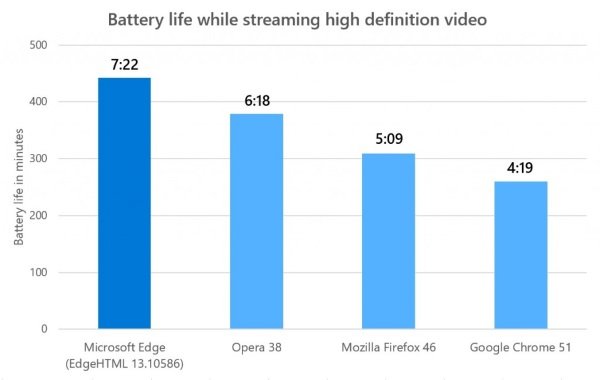 Microsoft tested various browsers by streaming the same content side by side on the identical Surface Book machines. And the results show that Microsoft Edge outlasts all the browsers. It provides 17-70% more battery life than its competitors. Microsoft Edge lasted three hours longer than Google Chrome streaming the same content.
The machine running Microsoft Edge lasted –
70% longer than the machine running Chrome.
43% longer than the machine running Firefox.
17% longer than the machine running Opera.
Because of Microsoft Edge is engineered to take advantage of Windows 10 platform features, it has the most power efficient video playback. It keeps the CPU in lowest power states possible during video playback without compromising UI responsiveness. This is done by offloading CPU-intensive video processing operations to power efficient peripheral hardware found in modern PCs and mobile devices. The power saving features are available to other browsers too, but these browsers should optimize performance on Windows devices. While these features are inborn in Microsoft Edge as it is designed like that.
Higher resolution and bitrate videos in Microsoft Edge
Microsoft also conducted video quality tests comparing Microsoft Edge with other browsers.

Microsoft Edge received 1080p content in the power test which means it ran a somewhat higher power draw than it otherwise would have to play 720p content like the other browsers. And it provided the highest quality content and the longest battery life.
"It is optimized to use PlayReady Content Protection and the media engine's Protected Media Path, whereas Chrome and Opera implement Widevine, and Firefox implements both Adobe Access and Widevine.  Like video decode efficiency, content protection in the platform and closer to the hardware can offer superior performance.  Likewise, the better the content protection, the better the video quality the service is likely to provide to that browser."
For the future, Microsoft is working with industry leading graphics chipset companies to expand support for hardware acceleration of new higher quality content. To support Enhanced Content Protection, it is working with chipset companies. The Windows 10 platform has significant power and security advantages for media playback available to any application. Microsoft Edge taking advantage of built-in media features of Windows 10 has best-in-class battery life along with video playback quality on Windows 10 devices.
For more details, please visit windows.com.