Microsoft's Security tool, Enhanced Mitigation Experience Toolkit (EMET) 5.5 is now available for download. The tool until now has been running in Beta phase which Microsoft has made available since December 19th 2015. However, this 29th January, Microsoft officially unveiled the version 5.5 with new updates and functionality.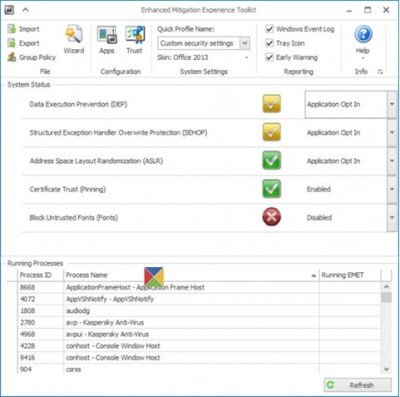 Designed for Windows, EMET 5.5 acts as security barrier between attackers and computer systems. Microsoft mentions that the toolkit anticipates the most common actions and techniques that attackers may employ in gaining unauthorized access to a computer, and helps protect by diverting, terminating, blocking, and invalidating those actions and techniques.
Enhanced Mitigation Experience Toolkit 5.5 features
EMET is made to protect Enterprises and other PC users from new and undiscovered threats that attackers keep on floating from time to time. The software includes 12 security mitigations that supplement other PC's defense and in-depth security functions including Windows Defender and antivirus software. Further, it also works for a range of client and server operating systems used at home and in the enterprise.
The toolkit is particularly useful to keep third-party applications, plugins and programs in check which nowadays have become a preferred route for attackers. EMET installs with default protection profiles, which are XML files that contain pre-configured settings for common Microsoft and third-party applications.
For Enterprise IT professionals EMET can be deployed by using Microsoft System Center Configuration Manager. Also, it is easier to employ Group Policies in Windows Active Directory to comply with enterprise account, user, and role policies.
What's new in EMET 5.5
The most notable is Windows 10 official support which was missing in earlier versions. Here are the other updates,
Windows 10 compatibility
Improved configuration of various mitigations via GPO
Improved writing of the mitigations to the registry, making it easier to leverage existing tools to manage EMET mitigations via GPO
EAF/EAF+ perf improvements
Untrusted font mitigation for Windows 10
Click here to download EMET 5.51.
Read Enhanced Mitigation Experience Toolkit EMET 5.5 Review.