The European Union today, formally accused Google of using it Search Engine dominance to divert search results in favor of its own Shopping services thereby gaining an unfair advantage over its competitors. The European Union formally announced a probe against Google and also launched an antitrust probe over Google's Android mobile operating system.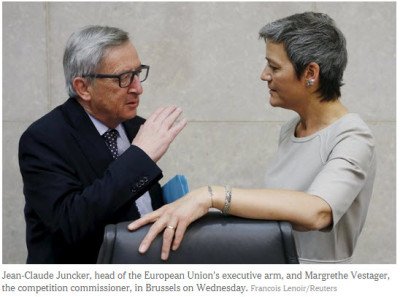 The antitrust probe over Android was launched, with EU saying that they want to check if phone manufacturers are in any contractual agreement with Google of displaying its brands at certain prominent positions on the mobile device.  Any agreement in this regard would mean that Google is using unfair means to promote its applications in lieu of allowing manufacturers to use its software-Android.
Margrethe Vestager, the European Union competition commissioner, said,
"Smartphones, tablets and similar devices play an increasing role in many people's daily lives, and I want to make sure the markets in this area can flourish without anticompetitive constraints imposed by any company."
What happens to Google now
If the charges raised by the European Union are proved, Google could face penalty to the tune of €6 billion as reported by nytimes. Also, the search giant will have to remodel its functioning in Europe complying with the demands of the EU.
Facing charges of bullying its competitors, Google rebutted the allegations, saying that users are free to use any service and it never manipulated the ranking or display order of shopping results.
Google said,
Indeed if you look at shopping — an area where we have seen a lot of complaints and where we understand the European Commission will focus its Statement of Objections — it's clear that (a) there's a ton of competition (including from Amazon and eBay, two of the biggest shopping sites in the world) and (b) Google's shopping results have not the harmed the competition.
Replying to the allegation on the Android, Google mentioned in a separate blog post,
"The European Commission has asked questions about our partner agreements.  It's important to remember that these are voluntary—again, you can use Android without Google—but provide real benefits to Android users, developers and the broader ecosystem. Anti-fragmentation agreements, for example, ensure apps work across all sorts of different Android devices."
Also, comparing Android devices with Apple and Microsoft, Google added,
"This also helps manufacturers of Android devices compete with Apple, Microsoft and other mobile ecosystems that come preloaded with similar baseline apps.  And remember that these distribution agreements are not exclusive, and Android manufacturers install their own apps and apps from other companies as well.  And in comparison to Apple—the world's most profitable (mobile) phone company—there are far fewer Google apps pre-installed on Android phones than Apple apps on iOS devices".
The antitrust case on Google is perhaps the biggest of all cases in recent times. Microsoft has paid close to 2 billion euros, as European fines in the last decade or so. Let's wait and watch if Google meets the same fate or not.