Microsoft has made available first set of extensions for Microsoft Edge for Preview. This has been made available to Windows Insiders. Since the Microsoft Edge project started, Microsoft roadmap included extensions so as to bring many new and interesting features for the customers. This will also support the vibrant developer community and urge them to innovate.
Microsoft's highest priority about Microsoft Edge is safety and security. So keeping in mind, its over 20 years of experience, it has learnt how poorly written or malicious add-ons were a big issue for browser's safety, reliability and performance. Keeping this in mind Microsoft Edge has been built and customers can add extensions to the browser with confidence.
Extensions for Microsoft Edge
For the best quality experience for customers, Microsoft has first introduced these extensions to Windows Insiders and then it will start rolling them to Windows 10 users later via Windows Store. Insiders can try them out starting in build 14291 which was released to fast ring , today.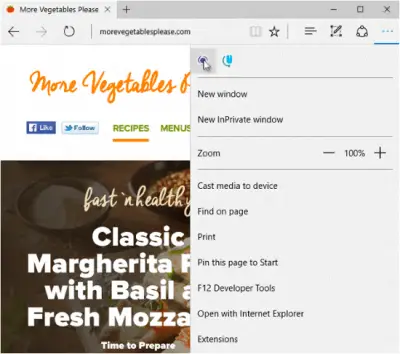 The Windows Insider build will include three preview extensions:
Microsoft Translator : This will translate pages automatically in over 50 different languages

Mouse Gesture: This allows customers to perform basic browsing tasks by right-clicking and then gesturing with the mouse. For example, right-click and hold, then move the mouse down and to the right to close the current tab, or move the mouse from right to left to go back to the previous page.

Reddit Enhancement Suite: A suite of modules that enhance your Reddit browsing experience
Later users will get popular extensions from various partners like Amazon, LastPass, Evernote and more.
In this preview, extensions need to be sideloaded manually or just click on "More" (…) at the top right in Microsoft Edge and click "Extensions" to open the Extensions pane and click "Get extensions".
Here's how you add extensions in preview builds of Microsoft Edge shown in the video below:
Announcing about the extensions, Microsoft Edge team said,
"…At this time, we're focused on collecting feedback on the supported extensions and finding bugs in our extension APIs.We're continuing to work with a group of co-development partners on the first extensions that will be available in the Windows Store later this year…"
So if one encounters any error, faces any issues, one can share it with the team via the Windows feedback app.