Barely, the dust over Google Plus data breach incident had settled, we learned another incident where Facebook exposed personal data of over 6.8 million users. The popular social networking site acknowledged that a bug found in its API exposed photos of users that were uploaded to the social network but not posted.
Facebook claims its team has already begun the process of alerting affected users via a notification. It directs them to a page that outlines, in brief, the whole incident and lists app that might have used the information without seeking users' consent.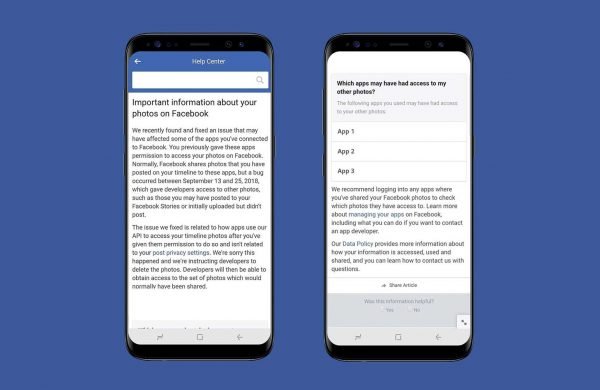 Facebook exposes 6.8 million users' photos
Tomer Bar, a Facebook developer in a blog post wrote,
Our internal team discovered a photo API bug that may have affected people who used Facebook Login and granted permission to third-party apps to access their photos. We have fixed the issue but, because of this bug, some third-party apps may have had access to a broader set of photos than usual for 12 days between September 13 to September 25, 2018.

Currently, we believe this may have affected up to 6.8 million users and up to 1,500 apps built by 876 developers. The only apps affected by this bug were ones that Facebook approved to access the photos API and that individuals had authorized to access their photos, he added further.
Find out if your Facebook Photos were leaked
To check if your account was impacted by the issue, visit the Facebook Help Center page and sign in to your Facebook account if prompted. there, a small box near the bottom of the explanation will notify you if your account was affected or not. Also, you can log into apps individually to verify if there was any unauthorized access.
Fortunately, my Facebook account was safe and the apps I often use had no access to my photos whatsoever.
Lastly, photos shared in Facebook Messenger conversations were safe and not affected by the issue. For more information, you can visit this link.