Facebook has acquired Giphy, one of the largest GIF animation libraries, reportedly for a whopping $400 million. The social networking giant plans to integrate Giphy's database with Instagram and other apps in the coming days.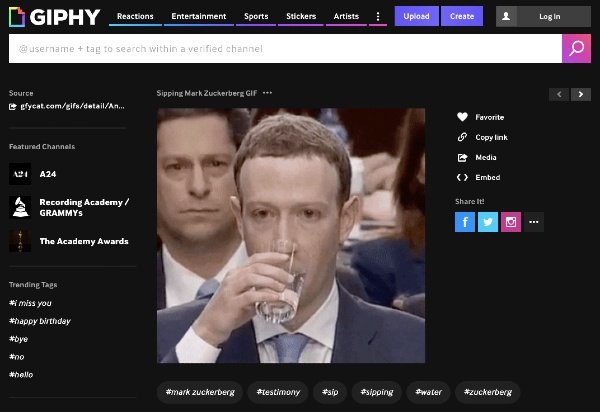 Facebook acquires Giphy
"Giphy makes everyday conversations more entertaining," says Facebook. Giphy doesn't need an introduction on social media websites including Twitter, Facebook, Instagram, among others. According to Facebook, nearly half of Giphy's existing traffic comes from Facebook family apps, primarily Instagram, making this strategic acquisition even more meaningful.
Facebook wants to make it easier for Instagram users to find GIFs and Stickers in Stories and Direct. Interestingly, both Stories and Direct Messages play a major role in driving Instagram's engagement.
"…and so we plan to further integrate their GIF library into Instagram and our other apps so that people can find just the right way to express themselves," Facebook added.
Facebook has been using Giphy API for ages across its family of apps including WhatsApp and Messenger. In addition to making its GIF animation library available to users, Facebook has other plans.
Facebook says it wants to invest further in Giphy's technology as well as connections with content and API partners, and Facebook is seeking complete control over the integration of Giphy to drive more user engagement.
"People will still be able to upload GIFs; developers and API partners will continue to have the same access to GIPHY's APIs; and GIPHY's creative community will still be able to create great content."
'Exciting times' ahead of Giphy and Instagram!
Over the last few years, ever since Facebook introduced ephemeral stories into WhatsApp and Instagram, the overall consumption of GIFs and stickers in private conversations have gone up.
Instagram is also making inroads into services like Direct Messages. The company recently enabled Direct Messages on the Instagram desktop website. Instagram also has a standalone communication app Threads, which seemingly replicates the Snapchat experience.
"We've had a lot of fun teaming up with Instagram over the years… Based on the success of those collaborations (and many others) we know that there are exciting times ahead of us," Giphy said in its Medium post.
Instagram has more than one billion people users worldwide who communicate who engage in Instagram conversations.
Meanwhile, take a look at these free online tools to create animated GIF files.