It was a well-known secret that Facebook was working on a dedicated social network for work which would eventually be aimed at the enterprise market. The entire endeavor was nicknamed "FB@Work" and just recently the product was finally unveiled. While we thought that it would be a standalone product, Facebook deemed it best to integrate with the Facebook.
Facebook at Work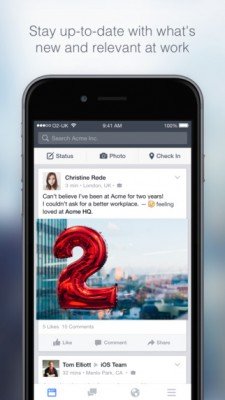 The company is however launching new Android and iOS app called Facebook for Work which would be more like an enterprise version of Facebook. This would allow the employees to create their own social networks with the added advantage of the Facebook ecosystem.
Both the Android and the iOS versions would be usable, thanks to a limited pilot but Facebook has still not announced about the plans for Windows Phone. Employers would be able to create separate log-ins for employees so that they can use it with work accounts else they can also link up with other profiles in order to access everything at the same place.
Facebook is apparently not the only one with the social networking network for the work as they would be directly rivalling Microsoft Yammer, Slack, Convo and Socialcast, all of which are trying to come out with the ultimate "enterprise social network" The ability for the co-worker's to stay connected with each other without the perils of outsiders has been the reason behind Facebook for work.  Facebook had been recently running tests of the service with a small subset of businesses across the globe.
Initially Facebook would be focusing on companies with 100 or more employees. That being said Facebook has not yet revealed any pricing or plans to monetize the product. In all likelihood Facebook will soon start offering added features and charge for the same, just like how Slack is doing.