Earlier this month, the social media giant Facebook announced the launch of Avatars. The feature is now live in India. Facebook Avatars is a feature that allows users to create and customize a cartoon character of themselves and use it as an animated sticker in chats and comments. Thanks to Avatars, Facebook is finally taking on Snapchat's Bitmoji feature.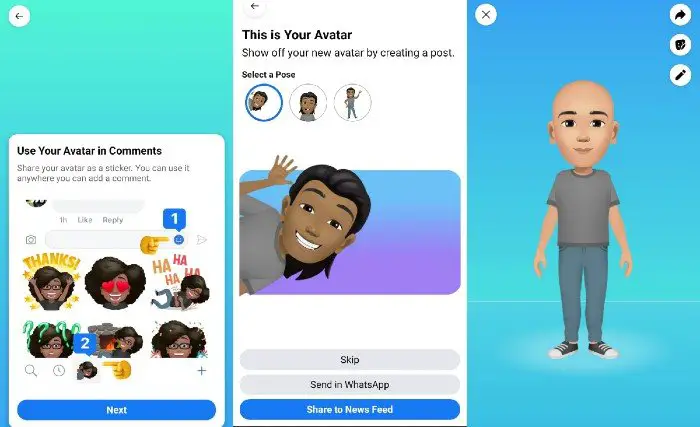 Facebook launches Avatars stickers
Facebook Avatars provide users with creative liberty to represent themselves in comments and personal conversations. This way, Facebook users can express their thoughts by means of stickers that include a character resembling themselves. The feature is clearly inspired by Snapchat Bitmoji that allows users to convey various messages using animated characters.
Facebook Avatars are likely to give a much-needed boost to the social networking giant's messaging efforts. According to the company, Facebook Avatars support a whole host of faces, hairstyles, and outfits customized for Indians. Facebook Avatars are currently limited to Android. The iOS version of Facebook Avatars is currently in works.
How to get started with Facebook Avatars
Make sure that you have the updated Facebook app installed on your Android device. Go to your Facebook app and tap the hamburger menu at the top right corner and tap 'See more.' Now, discover and tap the 'Avatars' option. You will be taken inside 'Facebook Avatars' where you can create and customize your own cartoon character.
First things first, select your skin tone to gt started. Once you have made your selection, you can proceed towards the selection and customization of your character's eyes, hair, outfit, among other things. Once you are done, Facebook will allow you to use your Avatar in comments. Plus, you can share your avatar as a sticker over Messenger and WhatsApp.
However, Facebook Avatars cannot be used in WhatsApp conversations at the moment. Meanwhile, WhatsApp is likely to take a similar route and introduce similar character stickers in the popular instant messaging app. WhatsApp is currently testing animated stickers in a chat with select users, Animated stickers in WhatsApp are currently limited to beta testers.