Facebook Beta is a new Facebook app for Windows Phone that has arrived in the Windows Phone Store. Published by Microsoft, the new Facebook Beta app features a redesigned Facebook experience for Windows Phone 8 users. Keeping lock screen wallpaper support and notifications (fixing push notification support for some), the app is worth checking out if you use Facebook and a Windows Phone device.
Facebook Beta app
From bug fixes to feature completion, the Facebook Beta improves it all, while still in beta. Filling feature holes that the original official Facebook app left, the app comes with loads of additions including pull to refresh to keep up with the social media giant's iOS and Android app counterparts.
It comes with an interface overhaul very reminiscent of Facebook Touch. Removing the Facebook header, adding notifications to the top, and putting options in menus; it looks very different while attempting to stay within the Modern UI.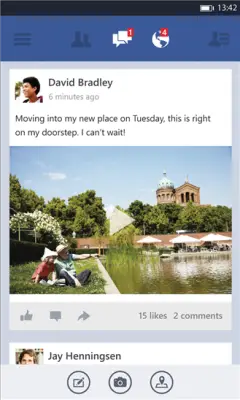 The app has been criticized for not following Microsoft's Modern UI philosophy, when the app is published by none other than Microsoft themselves. Reviewers' point out that the app doesn't feel metro-ish enough, with only the flattened out buttons to mimic the looks of the modern style. Most would argue that the app doesn't favor content over chrome and typography over chrome. Arturo Toledo, the former experience designer from the Windows Phone team, argues back on his blog at
Toledo2
,  saying that Metro or Modern UI is not about being flat, nor being pivots/panoramas, and that all apps do not have to look the same.
Even if you oppose the new app design, trying the new experience is a recommendation. Facebook Beta is only for Windows Phone 8 devices and you can download it from the Windows Phone Store.