Facebook Page is mostly used for business purpose. Most of the organizations and online retailers are creating Facebook Pages for their own company. It is a place for them to understand the taste of their customers and what they are interested in. They can even conduct polls to understand what customers are looking for. So, Facebook Page is the ultimate destination where business meets the customer.
Facebook Call-To-Action Button
Now, Facebook Page has gone a step forward. In addition to what it was providing till date, you can see "Create Call-to-Action" button now. This allows you to add specific button allowing people to take necessary action right from your page to meet your business goals. Now, page admin can select the respective button from the group of buttons provided to meet the business goals.
"Over the course of a three-week test, the Sign Up call-to-action button delivered a 2.5x higher conversion rate versus other comparable social placements aimed to drive new user acquisition." — Brian Kim, Director of Acquisition, Dollar Shave Club.
The group of button available are,
Book Now
Contact Us
Use App
Play Game
Shop Now
Sign Up
Watch Video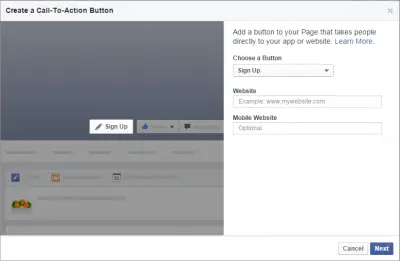 You can select the button which you want and need to enter the Website and Mobile Website address. Then, click "Next" to get the button added to your page. When, people click on that button, they are redirected to the link you specified while creating the button.
This is really a great step from Facebook to increase the percentage of business increase through Facebook Pages. Now, you can see different call-to-action buttons on different Facebook pages meeting their business requirements.
It has started rolling out worldwide and will be available for everyone within few days, so that you can create your own call-to-action button. It is one of the best ways to stay connected with customers through Facebook Pages.