This past January Facebook introduced the Graph Search, a technology which makes it easier for people to search for things. They took quite a while to roll this feature to the majority of their users, and it was just last month, when all the people who had opted US English as their primary language received the update. Now, Facebook is making its Graph Search more powerful.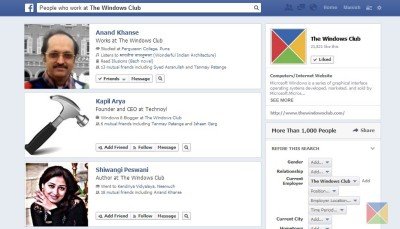 If you earlier found Facebook Graph Search functionality limited, the good news is that Facebook has now laced many new features to it. Earlier the search parameters were restricted to the publicly accessible information available in the About section, photos, places and interests of users. The language search of this social networking giant is now able to penetrate the status updates, comments, check-ins and photo captions.
Make Facebook status updates unsearchable by Graph Search
The new additions definitely make the Graph Search better than ever, but the only problem is that all your past posts, which if were shared with "Public" visibility might appear in others' searches.
To disable it, go to the Privacy Settings, and click on the Limit Past Posts, and confirm the change. If you don't want your future posts to appear on strangers' search results, you can also tweak the visibility of each of your post to Friends.

Facebook has recently carried out a plethora of changes on its website. A couple of months ago, they introduced the "hash" function. Something which they borrowed from Twitter. Though it wasn't the only thing they borrowed from their counterpart, they also took the "Verified Profile" tag. And just this week, they made it possible for you to edit your status posts.
As for the availability of this, Facebook in a press release said that it is live for all the users.