True Caller was a well-known moniker for caller ID solution. Now, the service is up for competition against Hello. It's not a start-up but Facebook owned app that unveiled its launch today. The service ties up closely with the social networking giant and so you can find some its functionality incorporated here.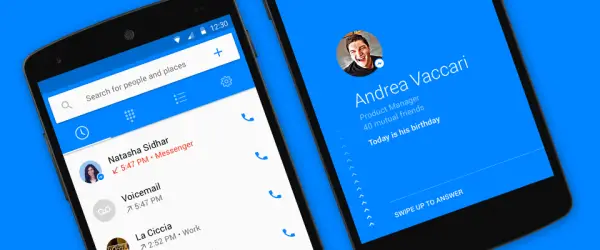 Facebook "Hello"
Hello, for instance, pulls caller Id information and Facebook profile details so long he keeps the default privacy settings of his account unchanged.  This shortcoming translates into a major weakness since scores of users often do change their privacy settings. The service instantly matches numbers to Facebook profiles and gives you information about whom you're talking to and just like TrueCaller, it identifies commonly blocked numbers.
The app is rolling out in Brazil, Nigeria and US for public testing and will be available only on Android.
Overriding all the privacy concerns around the app, Facebook's Andrea Vaccari, the apps product manager says, "When you get a call, Hello will show you info about who's calling you, even if you don't have that number saved in your phone. You will only see info that people have already shared with you on Facebook."
The company is boasting three key features:
It uses Facebook to identify callers so you know who's calling, even if you haven't stored their contact information.
It houses a powerful search feature that's useful in finding the numbers of local businesses.
It makes it easy to prevent unwanted callers from ringing your phone.
Hello will be available in the Google Play store as a free download.