Thousands of Facebook users were left bewildered as the social networking site went down for almost 40 minutes, possibly due to a DDoS attack. They were not able to login as the main page was showing a message that said something is broken and that they (Facebook) were working on it. It then gave them a link saying "Go Back" (See image below). The site went down around 1AM ET and stayed inaccessible for the next 40 minutes or so.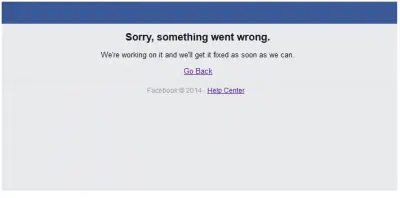 At the same time, Instagram too went down – possibly because it relies on Facebook for allowing people to sign up. Since the two sites are very popular and see millions of addicts, people's level of anxiety was increased as evident by their posts on the other social network platform called Twitter. The place, Twitter, also became a center for posting jokes regarding the outage of Facebook and Instagram.
The Telegraph says Tinder too was down due to the same reasons and it was also, alongwith Instagram, was down for the next 40 minutes starting 1AM ET.
Though Facebook and Instagram are now up and running, the managers did not speak of any attack and attributed the event to technical glitch, said the Telegraph. Meanwhile, a hacker group called Lizard Squad claimed responsibility for the attack due to which Facebook was down.
In its post on Twitter, the Lizard Group posted the names of social networks that were apparently taken down by it. It is not clear though, by looking at the tweet that Lizard Group is claiming responsibility.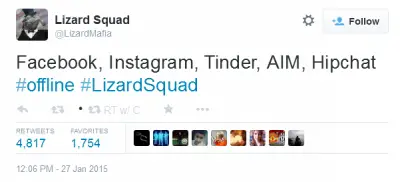 This was the second largest Facebook from its inception. The first largest outage lasted for around two hours and it was in September 2010. Facebook has over 1.25 billion monthly active users and 864 million active users daily. The outage meant that Facebook not only 40 minutes worth of ad revenue but also 98 million posts (content) that it could have reaped for its benefits. The Lizard group has also warned that it will dump some email IDs related to Malaysian Airlines.

Following are some jokes circulating on Twitter about Facebook and Instagram outage.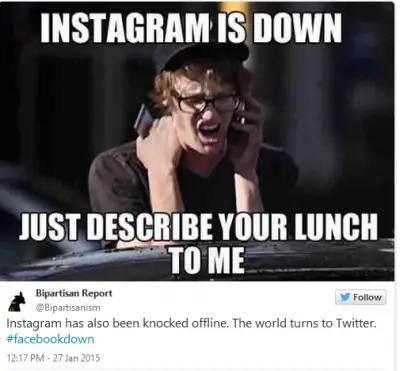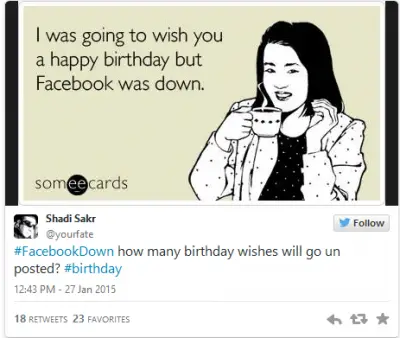 Did you notice the outage?