Transfer money while you chat, is what Facebook telling its users. If you use Facebook Messenger to chat with your friends about splitting a last night party bill or clearing canteen debts, Facebook has made it easy for you to transfer money without using any other payment application.
To be rolled out in the US in the coming months, Facebook has introduced a new feature in its Messenger that allows friends to transfer money without any additional charge.
Use Facebook Messenger to send cash for free
The money transfer through the app is simple and quick, users will have to link their VISA or MasterCard to their account profile and create a Pin. On the iOS devices you can also enable Touch ID.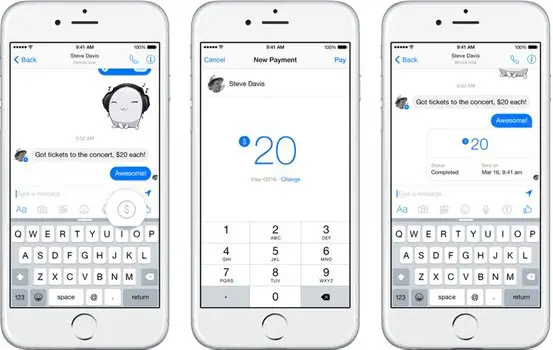 Sending money:
Start a message with a friend
Tap the $ icon and enter the amount you want to send
Tap Pay in the top right and add your debit card to send money
Receiving money:
Open the conversation from your friend
Tap Add Card in the message and add your debit card to accept money for the first time
The transfer would happen in 1-3 business days, depending on the banks as it happens with other payment applications like Venmo, Snapchat and PayPal.
The new feature will roll out across Android, iOS, and desktop, says Facebook. The company says that it does not intend to generate revenue from its messenger which was separated from Facebook's main application last year. Yet, this is a great move to keep the user base intact with possibilities of a potential income in the future. The man behind this strategic move is said to be David Marcus, who joined Facebook last year from PayPal.
To keep the transaction safe and secure, Facebook uses use layers of software and hardware protection that meet the highest industry standards. The payment systems are kept in a secured environment that is separate from other parts of the Facebook network and that receive additional monitoring and control. A team of anti-fraud specialists monitor for suspicious purchase activity to help keep accounts safe.
Facebook currently registers more than 1 million transactions on its site each day. This move is expected to give a great boost to company's transaction volumes and open doors for revenues in the years to come.