Facebook is making its standalone Messenger app more private, courtesy of new safety features that promise to keep unwanted interactions and scams at bay. Facebook is rolling out safety notices to Messenger. These notices will pop up during a chat and provide users with tips, enabling them to spot suspicious activity. Users can take certain actions from the Messenger app itself. For example, block or ignore suspicious users.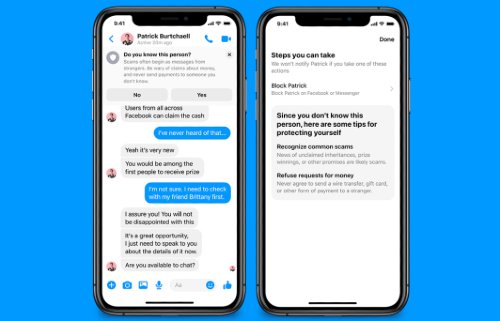 Facebook Messenger shows safety tips
Messenger folks initially rolled out to Android in March. Now, the same feature will arrive for iOS users starting next week. In a blog post, Jay Sullivan, Product Director of Privacy and Safety at Messenger said:
"Privacy, safety and security are fundamental to Messenger. We work hard to ensure Messenger is a safe place to connect with the people who matter most while also protecting their privacy…"

"Our strategy to keep people safe on Messenger focuses not only on giving them the information and controls they need to prevent abuse from happening, but also on detecting it and responding quickly if it occurs."
The announcement could be a part of a privacy-focused strategy outlined by Facebook chief Mark Zuckerberg last year.
Facebook Messenger says they are investing in privacy-focused tools to keep users safe without accessing message content. Safety notices are powered by machine learning AI that was trained by tracking behavior patterns in adult users who were caught sending friend and message requests to users under 18 in large numbers.
Social media and instant messaging websites these days have become a breeding ground for pedophiles and sexual predators who use various social engineering techniques to lure teenagers. So, ensuring the safety and privacy of minors is among the greatest responsibilities for these technology giants.
New safety notices in Messenger are supposed to educate users under 18 to be extremely careful when chatting with adult users, particularly strangers.
The Family Online Safety Institute (FOSI), a nonprofit internet safety organization says:
"It's important to use language that empowers people to make wise decisions and think more critically about who they're interacting with online."
Safety notices in Messenger are also supposed to help users avoid scammers whose only job is to promote fraudulent activities using online communication apps.