Facebook has launched a new app for iOS named 'Poke'. Poke for iOS is an FREE app that allows you to Poke your friends and also send messages, photos, videos. No, this is not another Facebook Messenger, but something more than it. One unique feature of Poke is its self-destructing ability and this makes it different from the Facebook Messenger.
Facebook Poke for iOS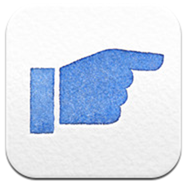 Any of the item sent gets expired after few seconds and you can no longer see it again. This is the self-destruction ability.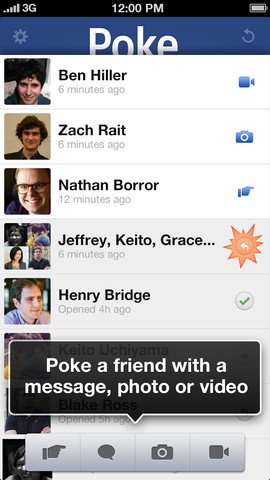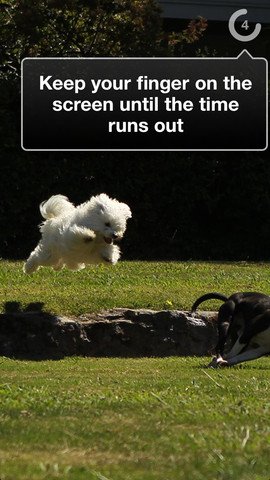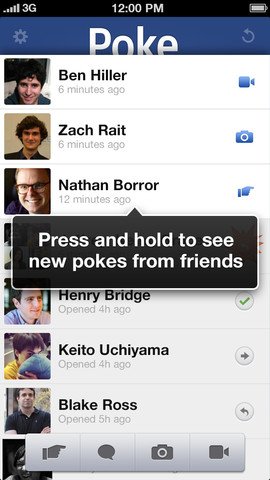 We just released Facebook Poke app (iOS). With the Poke app, you can poke or send a message, photo, or video to Facebook friends to share what you're up to in a lightweight way. Messages disappear from the app after they're viewed, so it's like sharing fleeting moments with friends as if you were there, said Facebook.
While sending an instant content you can select the time for which it should be visible. The expiration time can be either 1, 3, 5 or 10 seconds. Once expired, the content can never be seen again or recovered.
It offers ability to send 120 characters message, an instant photo with fun doodles and text on it and a 10 seconds video. You have to snap a picture or take a video, content from existing camera roll cannot be sent. Remember, this app only notifies in-app pokes. Pokes sent from the web or any other device are not mentioned here.
To see a self-destructing message, photo or a video received from a friend tap and hold it until the time runs out. Reports say, Facebook doesn't store any message so you needn't worry. Still, if you receive a harmful content report it from the menu.
Poke app allows push notifications, so you will not miss any poke. The voice behind the notification is itself the Mark Zuckerberg, so it's like Facebook founder it itself poking you.
Poke is currently only available for iOS, we soon expect Facebook developing it for other platforms as well. Within a day of launch, Poke has grossed top positions on the App Store and it among the most downloaded app.
Poke is available for FREE on the App Store.