Facebook is offering additional privacy measures in India. The social media company has introduced a new Profile Lock feature that allows Indians to keep their Facebook posts hidden from users they are not friends with. India happens to be the first country to receive this feature.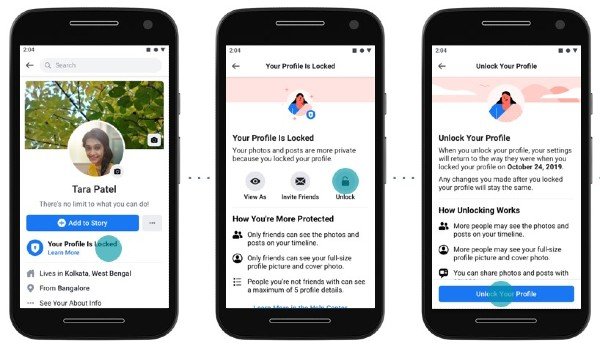 Facebook launches Profile Lock feature
By announcing this feature, Facebook hopes to provide Indian users with extra measures to keep themselves safer and more secure while using Facebook.
This feature is aimed at protecting women from online harassment that has been a growing concern among social media users in India.
"We are deeply aware of the concerns people in India, particularly women, have about protecting their online profile," said Facebook's public policy director Ankhi Das in a statement shared with TheWindowsClub.

"Today, we are announcing a new feature which, in one easy step, will give people a lot more control, ensure their privacy and keep them safe and secure online."
According to Facebook, locking a profile offers several privacy benefits at once. First things first, it will limit the visibility of your existing and future posts to your friends.
Understanding all Facebook privacy options and settings may not be easy for novice users. So, if you want to keep your posts limited to your friends, all you can do is simply lock your Facebook profile, and no matter what your Facebook post privacy settings are, people you are not friends with can no longer see your existing and future posts.
In addition to post privacy, Facebook users you are not friends with can no longer zoom into, share, or download your profile picture and cover photo. Once you lock your profile, a reminder notifying the same will appear on your profile.
According to the Centre for Social Research (CSR), an advocacy group for women based in New Delhi, young girls are reluctant to share about themselves on social media platforms and are intimidated by the idea of someone misusing their information.
"This new safety feature will give women, especially young girls a chance to express themselves freely."
Will LinkedIn employ similar privacy measures?
Of late, LinkedIn is emerging as a breeding ground for sexual predators who harass women on private messages in the pretext of professional networking. LinkedIn CEO Jeff Weiner has already acknowledged sexual harassment through private messages on LinkedIn is indeed a problem.
It remains to be seen whether LinkedIn will implement similar privacy measures in the future.