According to a survey conducted by The World Health Organization, almost 1 million deaths are caused by suicides every year. Not only that, each of these deaths affects at least 6 people who are closely associated with the dead person. So, this report suggests that millions of people are affected directly or indirectly by these suicides each year. The reasons and their intensity are different for every suicide case.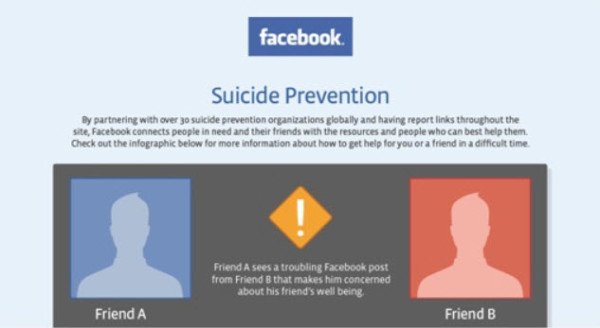 By identifying the fact that many of these suicides are preventable, Facebook initiated a suicide prevention methodology by introducing a new feature in mid of December 2011. This feature was called as 'Report Suicidal Comment'. With this feature, users could report any suicidal comments posted by their friends. Immediately, an e-mail from Facebook would go to the user who had posted the suicidal comment. The email would urge them to contact the National Suicide Prevention Lifeline or engage in a confidential online chat with a crisis worker.
Now moving ahead of this initial attempt, Facebook is now introducing more effective Suicide Prevention Resources. Joe Sullivan, Facebook's Chief Security Officer has drawn attention of all Facebook users to the Facebook's Suicide Prevention Resources.
In his statement, Joe mentions,
"At Facebook, where our mission is to help make the world more open and connected, we are committed to decreasing suicide globally by connecting people in need with the resources and people who can help them best.  As the place where people share with their real-life friends, we have a unique opportunity to give people the tools to respond to calls for help."
Facebook Suicide Prevention Resources
In order to make people understand how to use the Facebook's Suicide Prevention Resources, Facebook shared an Infographic. This PDF shows three different ways of getting Suicide Prevention Resources. These are explained further.
1)      The user can click on 'Report' situated on the upper-right corner of the post. By clicking this tab, the user can see Facebook's suicide prevention resources. Along with this, there is an option to submit a report. Facebook also provides a suggested message for the users which they can send to their friends and let the friend know their concern.
2)      User can search for the word 'Suicide' in the search bar now. With this facility, they can quickly track if any of their friends have posted anything related to suicide.
3)      Users can go to the Facebook Help Center and type 'suicide'.
These steps will help users to report a potential suicide case to the appropriate authorities. The presence of suicidal content in a post can be directly reported from the phones by those using Facebook app on their mobiles.
The advantage of Facebook's Suicide Prevention Resources
This is certainly a noble cause by Facebook of introducing the Facebook's Suicide Prevention resources. Considering that the most of the teenagers and young adults spend most of their time on social media sites like Facebook; tracking the suicidal tendencies and possibilities become easier with such suicide prevention tools.