Facebook user Shane said he wanted to test the Facebook suicide prevention tool and hence he posted suicidal material on the social networking site. Anyway, he had to spend 72 hours in a mental asylum as no one was willing to take any chances. Facebook suicide prevention tools locks up the suicidal users' account and provides him or her with suicide prevention material.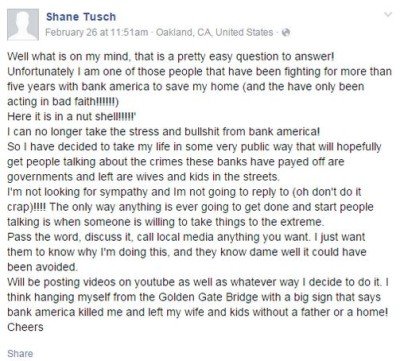 In Shane's case, he posted that the Bank of America has messed up with his home loan and that he'll commit suicide at some public place – with a board saying Bank of America killed him and left his kids fatherless and homeless. We cannot say for sure if it was a fake post. Neither could Facebook. Not willing to take any chances, the account was frozen and local cops were informed when a Facebook friend of Shane alerted Facebook by reporting the post to them.
Facebook informed cops who found out where he lived – because he had used his original Facebook account to post the suicidal message. He was taken into custody and handed over to San Mateo mental asylum who ran some six blood tests and some urine tests to make sure he had not consumed anything that might affect his life.
Shane maintained that it was a fake post but the hospital retained him for 72 hours to keep an eye on his activities and only after being convinced, released him to cops who sent him home. The Facebook Suicide Prevention Tool is for real. Shane learned it the hard way and had seen the consequences.
Meanwhile, users of Facebook appreciate the new suicide prevention tool that educates people on living life rather than giving it up. The tool is new and comes just before Facebook released a set of community guidelines on what all types of posts will be accepted and what posts will provoke an action from the social networking site.