Windows Defender SmartScreen protects Windows users when trying to visit sites reported as phishing or malware websites. The security tool it seems fails to recognize a new menace that has troubling users of some UWP apps. Ads that have been bundled with some Windows 10 UWP apps & games are directing users to deceptive web pages!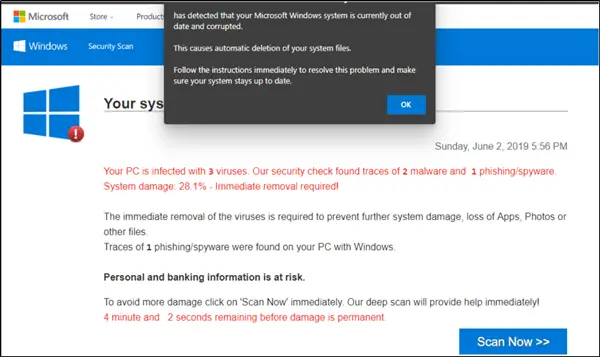 Malvertising attack on Microsoft Game apps
Currently, there is an increase in the number of malicious banner ads that open when starting or using apps on Windows 10. Users reported that they receive such fake virus warnings when using Microsoft Games and other apps. The error message alerts the user saying that the current version of the Windows installed on his/her system is out of date and corrupted. It then advises the user to follow some instructions to resolve the problem.
In addition to this, the alert message also tries to induce fear by showing an erroneous message –
Personal and Banking information is at risk. To avoid more damage, click on 'Scan Now' immediately. Our deep scan will provide help immediately.
Although the situation appears troublesome, there's no reason to worry if you can follow the defined course of action.
Firstly, when the virus screen appears simply close the page (or tab). If the page refuses to close, open Task Manager and kill the browser process by hitting the End Task button. As a precautionary measure, you can also clear your browser cache and temporary Internet files.
Second, it's important to remember that it is not local malicious software on the PC. So, there's no need to install any tools to scan and look for viruses – as long as you have not used the Scan Now button.
So long you can keep the window closed without confirming any questions to start scans, you remain safe. To prevent any such instances in the future, you can report the relevant Web page as fraud page via the browser. Some of them already feature in Windows SmartScreen filter.
For more information, visit the Microsoft Community page.