Last week, on September 15, Ahmed Mohamed, a 14-year old student of MacArthur High School in Irving, Texas was arrested by Police on charges of making a "hoax bomb" which Ahmed had brought to his school.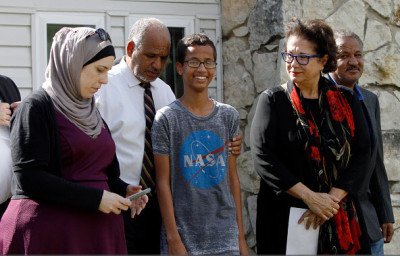 The hoax bomb was apparently a homemade digital clock which Ahmed had brought to show it to his engineering teacher. On seeing the clock the teacher complimented Ahmed saying, "that's really nice", and advised him to keep the device in his backpack for the rest of the day. However, later in the day, the clock attracted everybody's attention when it beeped in Ahmed's English class with the teacher asking Ahmed to show the clock.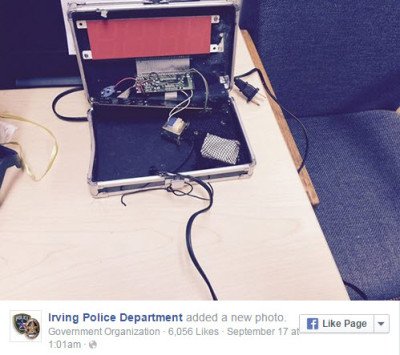 The teacher took no time in reporting Ahmed to School's Principal who escalated the matter to the Police. Soon, the principal and a police officer took Ahmad out of his class to a room where four other officers were waiting to question Ahmed. The interrogation lasted for 90 minutes and Ahmed was arrested for possessing a hoax bomb.
The 14-year old boy was escorted out of the school in handcuffs and taken to a juvenile detention center. He was later released, with the police refusing to accept that he built the device as a clock and did not intend it to appear to be a bomb. Though the police did not file any criminal charges against Ahmed and he was suspended from school for 3 days. But that's not the end of the story.
President Barack Obama invites Ahmed to White House
Since then, Ahmed's ordeal has gone viral on the internet with supporters terming arrest as "an example of Islamophobia" in the United States. Ahmed, since then has received support from all over the World with none other than President Barack Obama inviting him to visit the White House.
Cool clock, Ahmed. Want to bring it to the White House? We should inspire more kids like you to like science. It's what makes America great.

— President Obama (@POTUS) September 16, 2015
Tech leaders like Facebook CEO Mark Zuckerberg and Box CEO Aaron Levie has also invited Ahmed to visit their Silicon Valley offices.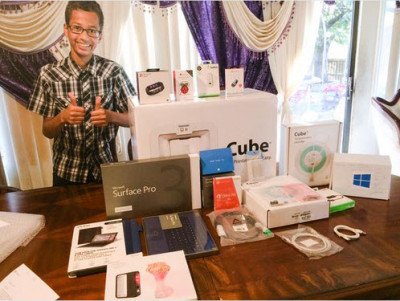 Microsoft also showed their support for Ahmed by sending him a bag full of tech goodies. It includes a Microsoft Surface Pro 3, Microsoft Band, Cube 3D printer, Raspberry Pi, and subscription to Office 365 and much more. Microsoft pepped up the little boy, tweeting "Enjoy, we can't wait to see what you create with it all!"