Skype has become a popular tool used for communication; whether it's corporate or personal. People are finding Skype quite easy and handy way to communicate with each other. Skype also lets you share videos, images and documents over the chat. The good news is that the file sharing on Skype has now become easier. A recent blog on the Skype Blogs revealed that some improvements have been done to the file sharing on Skype feature. Due to these improvements, file sharing has become easier to use and more reliable for everyone, on every device.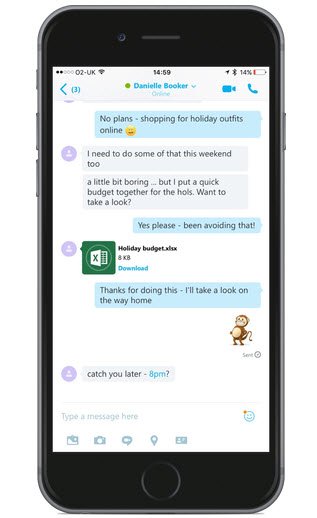 New features of file sharing on Skype
So what are the new features we can see on Skype for file sharing?
Files can be shared when the contact is offline: File sharing on Skype with our friends and colleagues always made communication easier and fun. Now, the latest version of Skype lets you share files, photos, documents and videos of up to 300MB with friends and groups even when they are offline. So, no need to wait for your family and friends to come online for file sharing on Skype. You can share your holiday videos or any important document, knowing that the recipients can download those whenever they come online. All this is possible because of Skype cloud file sharing feature.
Receive a file on multiple devices and download it multiple times: This is a great addition to the file sharing on Skype features. It is now possible to pick up a file multiple times on different devices. For example, if you are on your way home, you can start reviewing a PowerPoint document on your phone. Later on, you can once again download the same file from on your laptop at home by logging into Skype desktop version and make edits in the file.
Send files up to 300MB: Skype team did a thorough research for choosing the file size limits. Based on these tests, the team decided to set a limit of 300MB per file for sharing it on Skype. That's a great relief for the regular Skype users, as they always had to find some other way to share their videos or files with larger sizes.
All these new features for file sharing on Skype have certainly made the app more usable and flexible for all the users. You can know more about sharing files on Skype such as videos, documents, photos and more on Skype Blogs.