A new cyber-attack has recently been discovered by the a Silicon Valley security firm FireEye. These attacks mainly target the Wall Street Companies and are reportedly being carried by a highly educated group FIN4.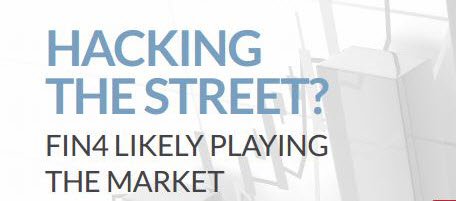 This sophisticated phishing attack basically targets stock trading. Unlike the usual phishing attacks which usually target the payment card details, this group focus on getting an access to insider information and break the stock prices of leading companies. The major targets of FIN4 include legal counsel, C-level executives and other legal personnel who have an access to confidential market moving information and are capable of breaking or making the stock prices. These hackers usually intrude via email accounts of company professionals.
FireEye further reports that this group of cyber criminals is active since mid-2013, and has targeted more than 100 companies till now. These include some leading banking firms, advisory firms, pharmaceutical companies, healthcare companies and legal and investment companies.
There are no set working patterns yet reported by the security firm, but these cyber-criminals seem to be native English speakers, who are very well familiar with the Wall Street vernacular. Their emails are written in flawless English and worded perfectly as if they were sent by some veteran investment banker. They often use previously stolen confidential company documents and generic investment reports which make their sham look genuine.
The threat intelligence team at FireEye writes that,
"We can only surmise how they may be using and potentially benefiting from the valuable information they are able to obtain. However, one fact remains clear: access to insider information that could significantly impact stock prices for dozens of publicly traded companies surely puts FIN4 at a considerable trading advantage".
Download the complete report from FireEye and know more about the indicators that may help you detecting the FIN4 activities.