Microsoft Authenticator for Windows 10 was in beta stage for quite some time. Fast forward five months, the full blown version of the app is out. The new Authenticator experience comes as an update for the old Azure Authenticator app. The updated app features two-factor authentication process for Microsoft, Azure Active Directory (AD), and more.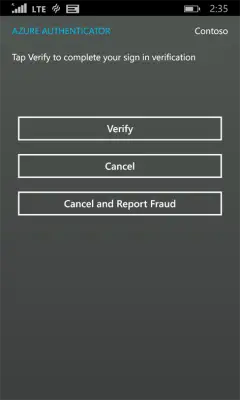 Microsoft Authenticator App
Microsoft Authenticator is a new mobile application that replaces Azure Authenticator, Microsoft account app and all other enterprise and consumer authenticator apps for Android, IOS and Windows mobiles.
Windows 10 Mobile users can get their hands on the new Authenticator app which brings many improvements to user interface and much more. Here is a complete list of all the features.
Certificate based authentication – This version does away with the need to sign in via passwords. Instead, it supports sign in through certificates for its enterprise customers.
User experience refresh – Microsoft has tried its best to make the app experience simple without compromising on security.
One-click push notifications – The app makes an attempt to offer best in breed MFA experience through one-click push notifications. All you need to do is hit the "approve" button in the notification to complete your login.
Support for wearables – Microsoft Authenticator app has support for different wearables. You can use an Apple Watch or Samsung Gear device to approve MFA challenges.
Introducing the updated Microsoft Authenticator! One app to quickly and securely verify your identity online, for all of your accounts.  This app provides an extra layer of protection when you sign in, often referred to as two-step verification or multi-factor authentication. If you've enabled this for your work or school Microsoft accounts, you'll get a notification from this app after trying to sign in. Just tap approve and you're good to go. For any other account, or if you're offline, our built-in security code generator has got you covered, reads the description on Microsoft Store page.
https://youtu.be/VzZFKS8AfQU
Back in August, the tech giant had launched Microsoft Authenticator for iOS and Android, assuring the same would be made available for Windows 10 Mobile later that week. However, after a prolonged delay, the revamped version of the app is finally available in the Windows Store.