Malware infection rates are lowest in Finland, states the latest Security Intelligence Report Vol. 15 released by Microsoft in a quarterly test. Microsoft measured the malware infection rates in 106 countries/regions quarterly. According to the report the infection rates are the lowest in Finland among all the countries of the globe in second quarter of 2013. This was followed by Japan and Norway.
The Microsoft Security Intelligence Report analyzes the threat of malware on over 600 million computers worldwide helping people to protect their organization and software. Finland has been on the top since 2007 when Microsoft first started publishing the regional malware infection rates. The SIR uses a metric called computers cleaned per mille (CCM) to report the infection rates.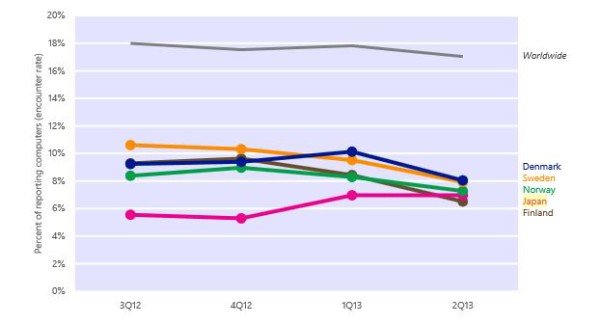 In the latest quarterly test held for second quarter 2013, Finland's low malware infection rate was noted 27 % lower than in Japan which was on second position and 50% lower than in Norway which sweeps on third position. Only 0.8 of every 1,000 computers were infected of malware in Finland reportedly. Furthermore, only 6.5% of computers in Finland were infected of malware.
As reported by SIR Microsoft the five locations with the lowest infection rates are-
Finland
Japan
Norway
Sweden
Denmark
When asked about the reasons of lowest malware infection rates, National Technology Officer for Microsoft Finland Aki Siponen says, "
Finland and the Finns have excellent background for building information security in the very fabric of our society. Education, technical skills and the tradition of public-private co-operation all contribute to good information security. The long-standing information security work by public and private players bears fruit in this ever-changing field. We have had our share of challenges, but we have been able to solve them and learn from them. We don't always realize how much dedication and hard work each of us does and what we achieve. This award is an excellent reminder to all the focused and dedicated people to be proud of their achievements.
These quarterly tests taken by Microsoft bring a sense of the effectiveness of security technologies and mitigations. You can download the complete Security Intelligence Report Vol. 15 here and check if your country is among the safest of the most infected regions.