When Internet Explorer 9 was released, it was Firefox 4. Today, it's Internet Explorer 10 but Firefox 18! Yes, Firefox 18 is now available for download.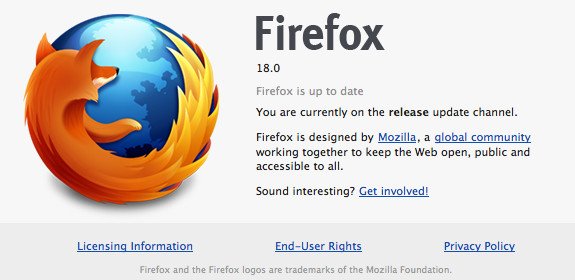 The latest update for the web browser from Mozilla may not bring in many feature changes but it does sport a couple of them, including Retina display support on OS X and a first crack at support for WebRTC.
Mozilla has been adamant on following its 'rapid release cycle' according to which it releases a new version of its Firefox browser every six weeks. This approach has helped it climb the version ladder with much haste and later Google too jumped ship by adopting the same strategy for Google Chrome.
Google Chrome, however, supports the automatic refresh feature through which the web browser automatically updates itself to the latest version with no need for a manual download/update unlike Mozilla Firefox.
Microsoft, on the other hand, still prefers to go the traditional way regarding release of new version(s) of Internet Explorer, its own web browser.
Firefox 18 Download
Download Firefox 18 for Windows.
Check out the download links for the latest Firefox Final and Firefox Beta in over 70 languages, including English.