If you are a Firefox user, now get ready to see advertisements in your browser as Mozilla has started displaying ads in it. The decision comes on the eve of the launch of Firefox 33.1 which was launched this Monday. The ads will appear in the form of Tiles in the new tabs page which used to show the history of the most visited sites by the user.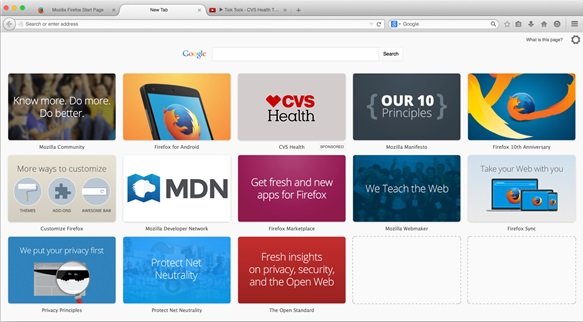 Firefox to decrease dependence on Google
Mozilla's major revenue comes from the Google, under the deal, where the Google search engine is installed as a default in the Firefox browser. Interestingly the deal was launched even before the Chrome was launched.
However, today, with Firefox falling a distant 3rd in the browser market share with just 14% share, compared to Chrome's 21% and Internet Explorer's 58%, Mozilla does not have an upper hand going into the negotiation with Google to renew the deal that expires this November. Hence, the decision to start displaying ads is seen as an attempt from Firefox to decrease its dependence on Google where it can start making revenue for itself.
Mentioning the initial advertisers on the Firefox, Darren Herman, VP of the Content Services, wrote in his blog,
"Today we are excited to announce our first two sponsored Tiles partners: CVS Health and their media agency Mindshare North America, and Booking.com. We are live in 8 languages and 25 different countries, and will continue to iterate with Mindshare/GroupM and Booking.com, as well as with our community, as we continue to improve on the experience".
Firefox, who has been pretty advocate in not tracking its user's browsing history, said that running sponsored content in tiles is results-based and not surveillance-based. Also, Firefox, will not allow tracking beacons or code in Tiles. It has also allowed you remove the Ad Tiles.
Distancing itself from other browsers that track user's behavior, Firefox said that it would not be collecting, or providing advertiser's information about its users. "There are certain categories that require screening or what's commonly known as age-gating, or have other sensitivities, that we will stay away from, such as alcohol and pharmaceuticals", said Darren Herman.
As a Firefox user, how do you react to this bit of development?