Firefox 71 introduces Picture-in-Picture or PIP mode on Windows OS version and the updated Firefox mobile version comes with Enhanced Tracking Protection. Just a few days ago Mozilla had released a newer version of the Firefox browser and named it version 71.0. This version comes with picture-in-picture functionality which users can avail while using it on the Windows operating system. So it is quite evident that picture-in-picture functionality is one of the most popular features of this version.
Firefox gets PIP mode and Enhanced Tracking Protection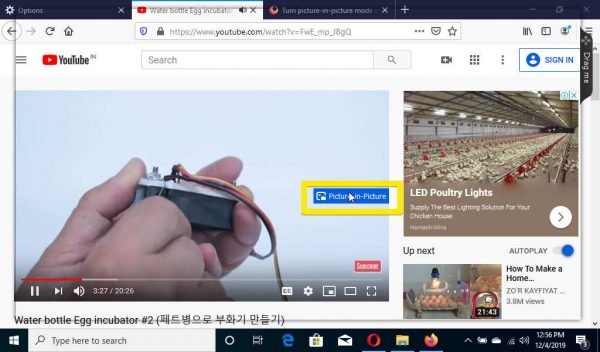 The PIP mode of the Firefox 71.0 will not only work on all HTML5 video sources, including popular websites like YouTube and Vimeo but also it works properly on copyrighted content protected by digital rights management (DRM) like Netflix.
Each and every user who has already updated their Firefox browser will be able to avail of the PIP mode by pressing the blue "Picture-in-Picture" button while watching a video. As soon as the user clicks on the blue "Picture-in-Picture" button, the video will open into its windowed screen, and it will continue to play into its windowed screen even when users will switch their tabs.
Read: How to use Picture in Picture mode on Microsoft Edge Browser.
Disable Picture-In-Picture mode in Firefox
The Picture-in-picture feature allows you to pop out videos from a web page and watch them in a floating window while you browse to other tabs. But if you wish, you can disable PIP: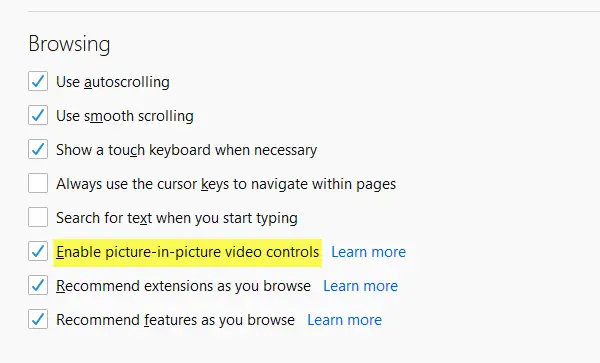 Open Firefox
Click on the Hamburger menu
Click on Options
Under the General tab, you will see the Browsing section.
Check or uncheck the Enable picture-in-picture video controls setting as per your requirement.
The new version of Firefox was only launched for the Windows OS, and as far as the Linux users and Mac users are concerned, they will be able to avail the Firefox 71.0 version a few months later most probably in January 2020.
Users will also be excited to know that Mozilla has released updates for its beta versions as well. Moreover, they are offering an additional beta test for Firefox users in the United States who want to try the latest version of the Firefox Private Network, its upcoming VPN service.
Mozilla has good news for mobile users as they have also released new updates on Firefox Preview as well. Firefox Preview is actually an experimental Firefox browser that users can download from the Google Play Store. Mozilla has introduced Enhanced Tracking Protection on the mobile version. With the help of Enhanced Tracking Protection functionality, the updated browser will be able to protect its users from analytics trackers, crypto mining, and fingerprinting trackers.
Apart from the Enhanced Tracking Protection functionality Mozilla has also introduced the Firefox Site Protection feature to the Preview version. This feature helps users to see the type of trackers such as third-party trackers, social media trackers, or crypto miners.