If you are a Firefox user, your Internet browsing experience is set to become a lot more secure. Mozilla has started rolling out the DNS over HTTPS (DoH) protocol, which is set to become a default protocol for Firefox users in the U.S.
Firefox starts rolling out the DNS over HTTPS (DoH) protocol
The rollout is expected to take place in a phased manner and complete over the course of the next few weeks. Meanwhile, Mozilla will keep checking for issues that may arise during this rollout process.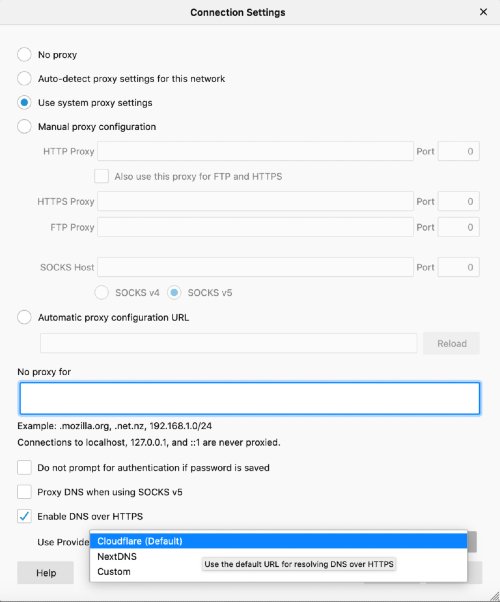 A few years ago, Mozilla officially started upgrading the older Domain Name System (DNS) with an aim to make your web browsing experience more secure.
Mozilla has briefly described the security and privacy-related issues they are looking to address with the help of the DNS over HTTPS protocol.
What is DNS?
Short for Domain Name System, DNS helps us locate the website's IP address with a human-friendly name, such as www.thewindowsclub.com. When a web browser requests access to content on a certain website, a process called 'lookup' is performed. When a website's address or URL is entered into the web browser's address bar, your browser then performs a 'DNS lookup' in the database of millions of other websites, matches it with the corresponding IP address, and finds the website on your behalf.
Before DoH, encrypted websites (https://) with SSL certificate also had to perform lookups without encryption. This is what folks over at Firefox are now looking to address with the introduction of DNS over HTTPS protocol.
Insecure DNS affects privacy
As described by Mozilla Firefox in the past, insecure DNS can pose numerous privacy risks and challenges:
"Because there is no encryption, other devices along the way might collect (or even block or change) this data too. DNS lookups are sent to servers that can spy on your website browsing history without either informing you or publishing a policy about what they do with that information."
Benefits of DNS over HTTPS
"We do this by performing DNS lookups in an encrypted HTTPS connection. This helps hide your browsing history from attackers on the network, helps prevent data collection by third parties on the network that ties your computer to websites you visit."
Unencrypted DNS is vulnerable to spying and posing numerous privacy-related risks for users. In fact, this could very well be Firefox's first step towards shifting its users to more secure alternatives.