Over the recent years, Firefox has become a stable browser on desktop, and successfully stepped on to the emerging open-source mobile operating system, Android. As end users, we discovered several changes in terms of technology getting used since quite a long time.

Mozilla is rolling out a brand new logo to for the Firefox browser. You could easily figure out some of the discoverable changes, in terms of its refreshing appearance with smooth and glossy design.
The logo and its entire evolution was featured on their blog post, recently.
"This is a right time to reflect the ongoing evolution with a visual refresh of the Firefox logo and product icon. As you can see from the graphic, the basic concept remains exactly the same, but it's been modernized to reflect Firefox's role in the ever-changing Web of 2013 and beyond." – Mozilla says.
Firefox is now a browser for Windows, Android, Mac and Linux. The idea behind the step is to focus more onto mobile devices. However, no major discoverable changes exist – except crisper and cleaner design. The actual concept of the logo remains same.  The new logo looks more glossy as compare to its earlier versions.
It has a better contrast with clean and clear design interface. The Fox fur now feels more softened and lightened on the logo with attractive color shade. The logo now features a fine edge border with better contrast on versatile backgrounds.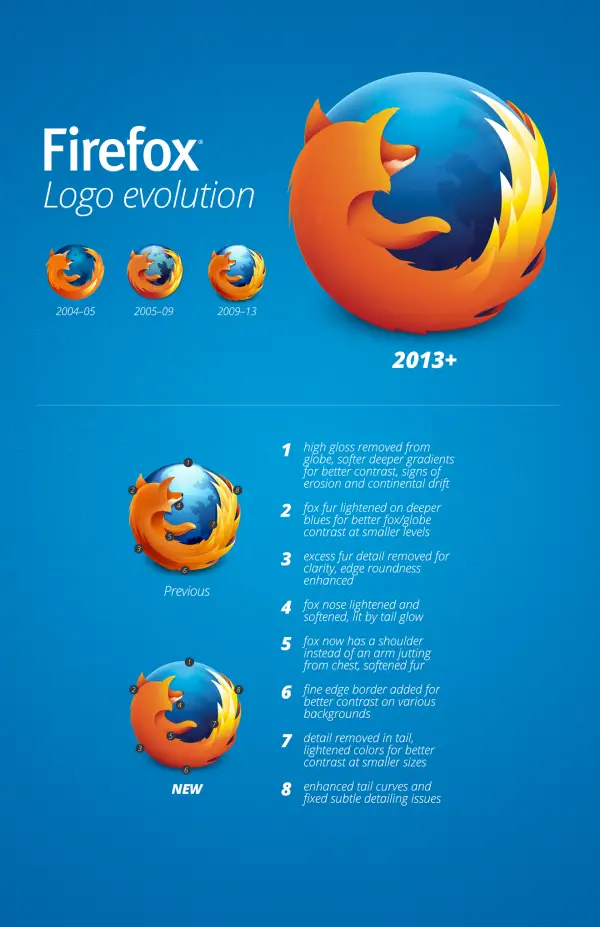 This 2013 edition of the Firefox logo has been created by Sean Martell.
Staring from today, Mozilla has begun rolling out the new logo with its Firefox 23 beta for desktop. The logo will start making its appearance on their website  and other promotional materials in the coming weeks.