Firefox recently announced its plan to display suggested tiles based on the browsing history of users. Every time a user will open up a new tab in Firefox, the browser will display a set of Suggested Tiles which will recommend a new tab page based on their browsing history and will also cater the digital advertising.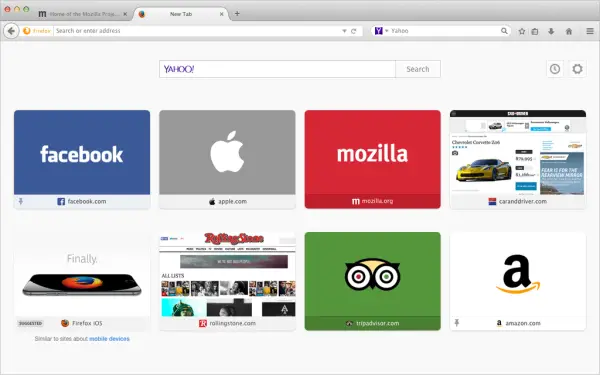 Suggested Tiles will come to Firefox Beta first and will probably serve the real estate ads mostly. Suggested Tiles for now will go live on Beta only. However there is no official date announced but the feature will be rolled out to the main Firefox release channel later in the summer.
Mozilla Firefox has already been running the Directory Tiles to bring advertising to the Firefox users. While Suggested Tiles are slightly different from the Directory Tiles as they figure out user's interest according to their browsing history and display relevant ads, whereas Directory Tiles display random ads.
Suggested Tiles will be set to display ads for a set number of times and then will automatically be removed.
"Suggested Tiles is an advertising experience that delivers content recommendations that are relevant for the user in a transparent way while at the same time respecting their privacy, and giving them complete control over the experience. As a tester, you should be able to identify clearly what is promoted or sponsored content, understand why you're seeing it, interact with it and be able to change your settings with ease", writes Darren Herman, Mozilla's VP of Content Services.
However, Mozilla limits what all is accessible to the advertisers while collecting data from users browsing history. Darren Herman also writes in his blog post that Mozilla will take care of user's privacy while doing the relevant advertising and giving content recommendations.
Watch the video to know more about Suggested Tiles.
https://www.youtube.com/watch?v=GAnTPcfnGiw