With every subsequent release, every browser developer tries to make its browser more secure and reliable. Firefox treads along the same path. If you are not aware, the browser has a special feature that issues warning to users by default when he tries to enter credentials on HTTP pages.
Firefox to warn about insecure Logins on HTTP pages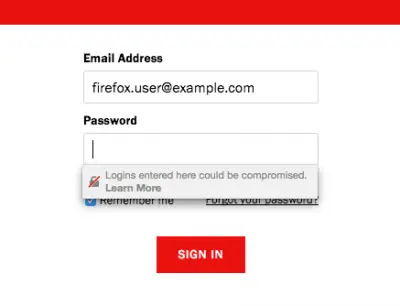 The latest release of the browser expands this feature even furthermore. Firefox browser now shows an in-context alert if you click on a username or password field on a page that isn't encrypted with HTTPS. For instance, web pages which collect passwords but don't use HTTPS will display a gray lock icon with a red strike-through in the address bar of the Firefox browser.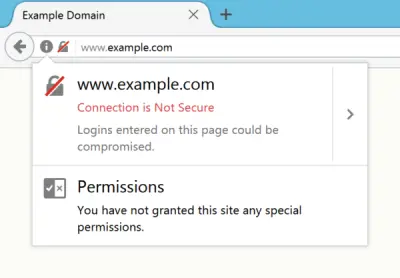 Clicking on the "i" icon, will show the text, "Connection is Not Secure" and "Logins entered on this page could be compromised". Thus, the browser warns you about insecure logins and displays a message about the same, right from the address bar.
HTTPS denote the secure variant of the HTTP protocol. The security environment it offers is enabled via authentication and encryption between a browser and the associated web server. Thus, HTTPS helps keep you safe from tampering when carrying out online activities like banking or communication with your friends. In the absence of HTTPs, someone else on the network can read or modify the website before you see it, putting you at risk.
To keep users safe online, the browser encourages its users to use HTTPS for their websites.
Apart from the above, Mozilla Firefox will include support for WebAssembly. It is an emerging standard inspired by a Mozilla research project. The new standard allows complex apps, like games, to load faster in a web browser and enable applications like immersive 3D video games, video and image editing that are otherwise difficult to run in the normal version of the browser.
An additional feature that has been added to the new release is the ability to automatically detect captive portals and notify browser users about the need to log in. Once, the browser detects a captive portal, and it replaces certificate error pages with a message indicating the web page is safe for you to log in.
You can read about the new features on mozilla.org.