Mozilla has now made it official that that the version 40 of its browser is made for Windows 10. The welcome page says Firefox + Windows 10 = Perfect Together.
We've designed Firefox to work seamlessly with your Windows 10 update, giving you the same great browsing experience you've come to love, with the privacy, speed and choice you've come to expect.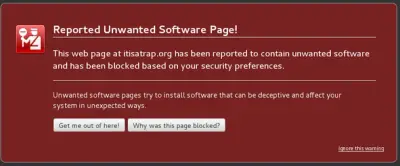 The Firefox version 40 protects the users against drive-by downloads – unwanted programs downloading to your computer when you visit a website even if you don't click anywhere on the page. It also has the feature to block malicious websites. The database for identifying malicious website is the one created and maintained by Google, according to the Mozilla. If you try to access any malicious website, you will get a warning error as shown in the image below.
Firefox v40 for Windows 10
The GUI of the new Firefox for Windows 10 has changed a bit. It now has better rounded tabs that are smaller and darker compared to the previous versions. The GUI completely blends into the GUI of Windows 10 thereby making it look like a Windows 10 app running full screen. It comes with a reading view to counter the reading view in Edge, the new browser from Microsoft for Windows 10. The reading view presents websites in a crisp rendered format, making it easier for reading even in dim light.
The main page of Firefox after you upgrade to version 40, has a button to launch a walkthrough that helps you make it the default browser in Windows 10. It is well known that Mozilla's CEO was not happy with the way Windows 10 has changed setting up default programs. Overall, the new version is good both at security and looks that it seems to borrow from Windows 10.
Though it should be auto upgraded in few days, to perform a manual in-place upgrade of Firefox for Windows 10, click on the hamburger menu and then on the question mark symbol at bottom of the menu. Click on About Firefox. The browser will automatically download the latest version which is numbered 40 at the moment.
You can download it from the official Mozilla website or wait until your current Firefox detects, downloads and updates itself to version 40. Though the previous version (38 and 39) too work well on Windows 10,