After being available on iOS and Android platform for quite a long, the very popular fitness app FitBit is now available for Windows Phone 8.1 also. Fitbit is a range of 'wireless activity trackers' that brings direct mobile syncing . You just have to pair your smartphone with a Fitbit device over Bluetooth and your data will sync automatically . The app will then start monitoring the progress on your fitness goals.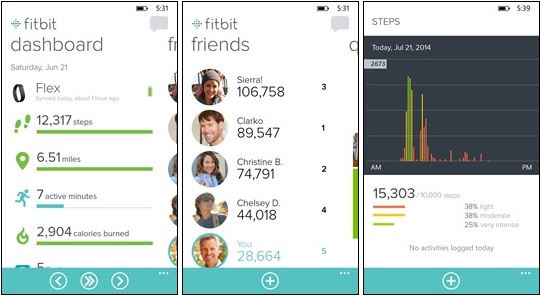 Fitbit for Windows Phone
It will track all your fitness metrics like the number of steps taken, calories burned, distance traveled, floors climbed, active minutes, and your sleep quality. The program also offers a live tile option which can be pinned to your Windows Phone home screen. The app provides a remarkable user-experience and the wireless data synchronization over Bluetooth 4.0 provides an instant access to all your Fitbit activities.
Fitbit CEO James Park said in one of his press statements that "Windows is projected to be the fastest growing smartphone OS platform, so supporting this platform is important so that all of our users have access to their stats, no matter which phone they choose. With our new Fitbit app for Windows Phone 8.1, we expand our already extensive list of leading Android and iOS supported devices, to bring Fitbit's benefits to even more users."
After the Blackberry Messenger App for Windows Phone, Fitbit is the new useful addition to the Windows Phone Store.
Download the free Fitbit app and get all the up-to-date information and notifications on your Windows Phone at a glance.